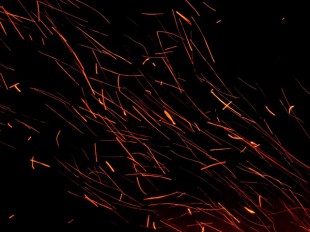 Winter solstice
December 19 to 22 - Celebrating winter solstice at the foot of Hochkoenig in the Austrian Alps: sitting, breathing, paying attention ... watching the sparks of a bonfire.

Cherry Tree
December 4 - Gone With the Wind.

Music in Duesseldorf
November 26 to 29 - Approximation 2013 at salon des amateurs: Simon James Pillips, David Cunningham & Rie Nakajima, Winfried Ritsch, Wolfgang Voigt, Tonia Reeh and Eviyan (Eva Bittová, Gyan Riley, Evan Ziporyn).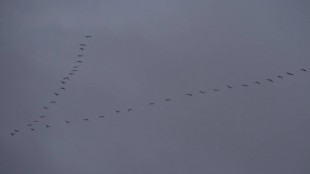 Flying south
November 10 - There they go again. Five, six, seven and more flocks of cranes (Grus grus) fly over the house in high altidue: "The call is piercing and can be heard from a considerable distance." (wikipedia)

Reading
November 2 - Bernie Krause: The Great Animal Orchestra - Finding the Origins of Music in the World's Wild Places (in its German translation). An impassioned case for the conservation of one of our most overlooked natural resources - the music of the wild. "Sitting alone on the ground with my recorder, trying to appear small and unobtrusive, I was startled by each new sound. Many of the subtle acoustic textures around me were made larger than life through my stereo headphones, on wich I cranked the monitor levels so that I wouldn't miss anything. The impact was immediate and forceful. Impressions of lightness and space were aluring and lustrous. The ambience transformed into minute detail that I would have never caught with my ears alone - the sounds of my breathing; the slight movement of a foot adjusted into a more comfortable position; a sniffle, a bird landing nearby on the ground, stirring up leaves and then pushing air with its wing beats in short, quick puffs as it took off, alarmed. I realized, even then, that wild sound might contain huge stores of valuable information just waiting to be unraveled. ... A fine microphone system lets me differentiate between what to listen to and what to listen for. Through headphones I hear pieces of the aural fabric in such gloriously clear detail that I am still surprised by how much I was previously missing. A pair of stereo microphones transforms the acoustic space - when I turn up the volume slightly above what I can hear unaided, I get an 'out of this world' impression that I imagine astronomers might feel when they receive Hubble telescope images of exploding supernovas from far reaches of the universe." This literally is a sound book: Small loudspeker icons besides the text lead to more than 80 astonishing sound files - from the low growl of a Jaguar in the Amazon jungle to the dawn chorus in Tschernobyl. Worth a visit is Bernie Krause's Website: Wild Sancuary.


Cherry tree
October 28 - Fall.

Welcome to Gemany
October 19, 20 and 21 - In an unusual collaboration the German punk band Die Toten Hosen and the orchestra of the Robert Schuman University of Music and Media recall the exhibition Entartete Musik in Duesseldorf 75 years ago. The students of my Audiovisual Production course record the concerts at Tonhalle with a system of eight cameras.

Jupiter transit
October 12 and 14 - Coming back from a trip to the Greek islands 82 year old motorbike legend Ted Simon, protagonist of a film I made eleven years ago, stops at our house for the night before he flies back to California. He shows his new book: Jupiter's Travels In Camera - The Photografic Record of Ted Simon's celebrated Round-the-World Motorcycle Journey: ″Creating it, over the last six months, has been like living that wonderful adventure all over again. Writing fresh words to accompany more than 300 pictures took me back as nothing else could. And seeing those old Kodachrome slides turn into spread after spred of clorious colour, under the brilliant direction of Erdem Yucel, was truly exciting.″

the simplicity of walking
September 8 to 11 - A three day walk along the Pfaelzer Weinsteig: Gruenstadt - Bad Duerkheim - Neustadt - Schloss Hambach - Kalmit.
Dream and madness
September 7 - Harry Partch: Delusion of the Fury at Jahrhunderthalle in Bochum. Directed by Heiner Goebbels. Music theatre performed by the ensemble musikFabrik. "Harry Partch (1901–1974) is one of the most original artists and musicians of the twentieth century. In search of a musical world far from European music, the American composer not only invented his own tonal system, but also designed and built instruments of idiosyncratic beauty to play his music. Called the ›Don Quixote of Music‹ by contemporary critics, he is today considered a highly inspired music philosopher and pioneer who was one of the first composers to almost exclusively work with microtonality...Based on Japanese and African myths, he develops a piece between dream and madness, that integrates all theatrical means, light, movement, and song with the extraordinary presence of his instruments in a theater without a precise setting, where temporal layers overlap." An evening to remember!

Just read
August 30 - I love Cormac McCarthy's lean writing style. After having read The Road a few weeks ago, I just finished No Country For Old Men (in the German translation by Nikolaus Stingl). I also read the film adaptation by the Coen brothers - and of course I watched their movie again. "I was sheriff of this county when I was twenty-five. Hard to belive. Grandfather was a lawman. Father too. Me and him was sheriff at the same time, him in Plano and me here. I think he was pretty proud of that. I know I was."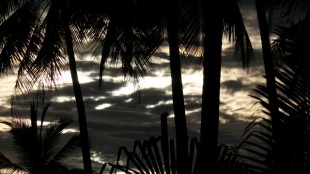 Sounds of the night
August 13 - After a heavy monsoon rain at Ko Chang island I spend the first hours of the night recording a noisy concert of frogs and crickets and other fameless nightly singers.

Ko Chang
August 10 - Listening to the breaking waves and following the change of light at Lonely Beach on the island of Ko Chang near the border of Cambodia in the southeast of Thailand.

Place of peace and wonder
August 5 - An evening at Shwedagon Pagoda. We wander around the huge golden stupa, observe unfamiliar rituals. Smell of burning incence. Chants and prayers, sacred bells and wind chimes.


Smiling faces
August 4 - Bicycle ride along the country road between Nyaung Shwe and Kaung Daing. People on bikes and mopeds, on the back of trucks and carriages. Pedestrians carry huge loads on their heads. Barefooted children haul broken stones and gravel to worksites along the route. They are all in good spirits, most of them are smiling. Do they know a secret?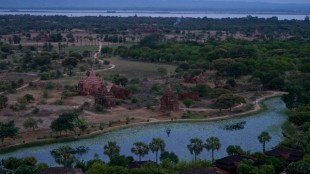 Outlook
August 1 - Sunrise on top of a viewing tower in the pagoda field of Bagan in Myanmar. The sound of wind and the cooing of half asleep pigeons. The slow fade-in of the rising morning light unveils hundreds of ancient pagodas, some of them covered in pure gold.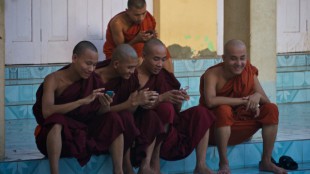 Sacred rituals
July 30 - Mandalay. Mahamuni Pagoda is a Buddhist Temple and one of the major pilgrimage sites in Myanmar. I am enraptured by the lightness of worship: chanting, praying, checking emails.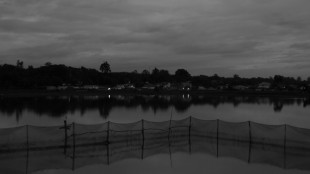 Saving fish
July 29 - Pyin Oo Lwin is a hill station, 67 km east of Mandalay in the center of Myanmar. It was founded by the british Army as a garrison town a hundred years ago. At an elevation of a thousand meters it is much cooler than muggy Mandalay. The fisherman wading in the lake at the edge of town make me think of Amy Tan's novel Saving Fish From Drowning. The title of the book is derived from the practice of Myanmar fishermen who "scoop up the fish and bring them to shore. They say they are saving the fish from drowning." Unfortunately the fish do not recover. And since it is not right to let food go bad, they take them to the market and sell them. Buddhist logic.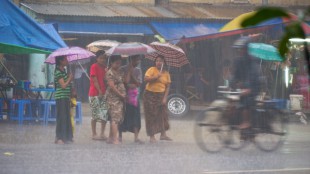 Monsoon Drumming
July 25 - Yangon, Myanmar. Listening to the sounds of water hitting different surfaces: umbrellas, skin, cars, plastic chairs, metal rooftops, tarpaulin, asphalt, open ground, wood, leaves, water.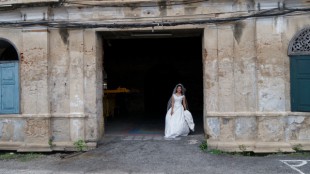 Lonely bride
July 21 - Early morning stroll around the Oriental Hotel in Bangkok. I record the arrival of ferry passengers at the Oriental Jetty and the squeaking of the moving plattform. Standing in an empty doorway: a lonely bride. All smiles.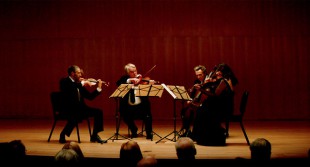 Brilliant acting
July 19 - An extraordinary film about musicians (that moves even under the most awkward viewing conditions of a long distance flight): A Late Quartet, directed by Yaron Zilberman. "It's paradise to watch this quartet of actors, who learned to play short phrases on their instruments, make their on kind of music." (Rolling Stone)

Just read
July 17 - The Road by Cormac McCarthy. "... none. From the dream from which he wakened he had wandered in a cave where the child led him by the hand. Their light playing over the wet flowstone walls. Like pilgrims in a fable swallowed up and lost among the inward parts of some granitic beast. Deep stone flues where the water dripped and sang. Tolling in the silence the minutes of the earth and the hours of the days of it and the years without cease. Until they stood in a great stone room where lay a black and ancient lake. And on the far shore a creature that raised its dripping mouth from the rimstone pool and stared into the light with eyes dead white and sightless as the eggs of spiders. It swung its head low over the water as if to take the scent of what it could not see. Crouching there pale and naked and translucent, its alabaster bones cast up in shadow on the rocks behind it. Its bowels, its beating heart. The brain that pushed in a dull glass bell. It swung its head from side to side and then gave out a low moan and turned and lurched away and loped soundlessly into the dark."
Cherry tree
July 5 - Yes!

Just read
June 1 - How much is enough? by Robert and Edward Skidelsky. "This book is an argument against insatiability, against that psychological disposition that prevents us, as individuals and as societies, from saying 'enough is enough'. It is directed at economic insatiability, the desire for more and more money. It is chiefly directed at the rich parts of the world, which may be reasonably thought to have enough wealth for a decent collective life. For the poor parts of the world, where the mass of the people still live in great poverty, insatiablity is a problem for the future. But in rich and poor societies alike, insatiablity can be seen wherever the opulence of the very rich runs wildly ahead of the means of existence of the many." (from the indroduction)

Cherry tree
June 30 - Just a few more hours of sunshine - please!

Alignment
June 14, 15, 16 - A three day hike in the woods. Pfälzer Waldpfad (Palatinate Forest). Trippstadt - Karlstalschlucht - Heltersberg - Rodalben - Merzalben - Leimen. Walking slow. Walking on soft ground. Listening to birdsong and the rustling of leaves in the wind and running water. Endless shades of green. The smell of wood and berry bushes. Step by step. Breathing in, breathing out.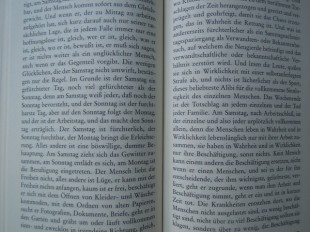 Just read
June 10 - Thomas Bernhard: The Cellar - An Escape. Originally published in German in 1976. "What I was seeking was something different, something I had not known before, something that might be stimulating and exciting, and I found it in the Scherzhauserfeld Project. I did not go there out of any feeling of pity: I have always detested pity, and especially self-pity. I did not permit myself to feel pity; my only motive was the will to survive. Having come so close to putting an end to my life, for every possible reason, I had the idea of breaking away from the path I had taken for many years because I was too stupid and too unimaginative to choose another, and because I had been set upon this path by those who brought me up to fulfill the dreary ambitions they entertained on my behalf. I did an about-turn and ran back along the Reichenhaller Strasse. At first I simply ran back, without knowing where I was heading. From this moment on it's got to be something different, I thought—in my excitement this was the only thought in my head—something that is the very opposite of what I have done up to now."
Lots of air
June 2 - Visit to Gasometer in Oberhausen: Big Air Package by Christo. A huge white walk-in inflatable: 90 meters high, with a diameter of 50 meters and a volume of 177,000 cubic meters. "The work of art is the largest ever inflated envelope without a skeleton", writes the artist.

Misty
May 29 - Opening of Atmosphere (2011), an installation by Chris Salter at glasmoog, an exhibition space at the Academy of Media Arts Cologne. The exhibition is part of a three day symposium with the title 'Timing of Affect'. Writes the artist: "Atmosphere is the name for a series of ephemeral, sensorial-architectural environments combining RGB LED light, barely perceivable sound, infrared heat and haze. A series of vertically suspended lightweight panels constructed of focused channels of RGB LED's at the bottom and top linked together by thin monofilament gradually and almost imperceptibly change color and opacity over time, the result of shifting qualities of artificially produced haze in the environment. At the same time, small infrared heaters suspended in the area produce changing climates that are not visible but still present to the bodies of visitors who near the panels." (Chris Salter)
Anxiously awaited
May 18 - Start of the outdoor pool season.

Just read
May 16 - Julian Barnes: Pulse - A collection of short stories, first published in 2011. In the German translation (Unbefugtes Betreten) by Thomas Bodmer and Gertraude Krueger. "You would think, wouldn't you, that if you were the child of a happy marriage, then you ought to have a better than average marriage yourself - either through some genetic inheritance or because you'd learnt from example? But it doesn't seem to work like that. So perhaps you need the opposite example - to see mistakes in order not to make them yourself. Except this would mean that the best way for parents to ensure their children have happy marriages would be to have unhappy ones themselves. So what's the answer?" (Julian Barnes, Pulse)

Horst Königstein
May 14 - He was the first TV producer who commissioned me to write and direct a film. It was in Hamburg in 1983 - and the film was called Die Kinder von Apple, Atari und Commodore (The Children of ...). His advice was essential. I admire his films and television programs. "Whenever I look, I frame a shot", he said. Looking back he was one of the most intelligent, sincere and radical television people I met. Two days ago Horst Königstein died at the age of 67.

No escape
May 4 - International May Festival Wiesbaden. We see Oedipus City in a guest performance by Deutsches Theater. With stunning performances by Ulrich Matthes and Susanne Wolff. German writer and dramatic adviser John von Dueffel mixed several greek plays in order to create a new Drama of immense vigor and strength: "The curse on the house of the Labdacids is one of the central myths of Greek antiquity – and thus part of the origins of theatre itself. The big three writers of Greek tragedy – Sophocles, Aeschylus and Euripides – each created plays about these mythic figures, in particular ‹Oedipus Rex›, ‹Seven Against Thebes›, ‹The Phoenician Women› and ‹Antigone›. Taken together, they chronicle the family saga of Oedipus the King, his rivalrous sons Eteocles and Polynices, and his daughters Antigone and Ismene. But they also tell the story of the city of Thebes, whose political fortune is closely bound up with this family and its fate. Patterns of dysfunction and destruction recur in this saga of a ruling family in which violence begets violence, power engenders countervailing power and fear feeds fear. Even Creon, the wise ruler and statesman who assumes power after the killing spree has come to an end, tries to compensate for his alleged weakness by being overly harsh. In doing so, he destroys the very city he is meant to protect".(Deutsches Theater)

Cherry Tree
May 3 - A violent storm in the afternoon - hail the size of marbles -
all petals on the ground.

Urban fox
May 4 - Last night on my way home in Duesseldorf I saw a fox. It was past midnight and I was about to cross an intersection. Coming out of nowhere she trotted across the four lane boulevard - and disapeared through a fence. (I am convinced she was female).
Cherry tree
April 25 - Spring's here
for good, and calm as
calm can be
so, why do blossoms
have to rush like this!
(Gosen Wakashu)

Listening adventure
April 20 - Eye Contact With The City is the title of a project by Indian artist Budhaditya Chattopadhyay. It explores emerging urban environments in India. The recorded audio and video material has been used in varied installations and performances. The sound composition was released last month on German label gruenrekorder: A true adventure, taking the listener into realms of strange sounds and unknown musical structures."The sounds that were gathered during the extensive field recording undertaken at different locations (in Bangalore, India) embody the imagery of urban growth, exemplified by the enormous metrorail construction", writes the artist. "To many listeners and composers alike, field recordings and unprocessed sound are just building blocks for compositions, which need to be grouped and organised. To Budhaditya, they are demanding attention, whispering secrets, telling stories. If his music is a conscious effort of challenging the supremacy of the visual in our medial landscape, then it is mainly because he believes that acoustic environments allow for equally exciting narratives and that an increased awareness of the sonic potential all too often lost underneath our radar of perception could lead us to a better understanding of the world.... Even though his perspective is never objective, Budhaditya is not so much interested in composing as a technique to express the failings and triumphs of his ego but as a worldless method of connecting and communicating with his surroundings." (tokafi)

Cherry Tree
April 14 - We've been waiting for a long time.

Demoiselles
April 11- Opening of an exhibition with new paintings by our friend Silvia Willkens at Galerie Christine Rother in Wiesbaden. "Silvia Willkens has long been inspired by the portraits of women from early Renaissance, in particular, the soulful figures of Giotto as well as works by Flemish masters....Her images of human beeings seem to derive from a different frame of time. Faces, as well as whole figures, often without any specific attribute and without a particular statement of space, are composed with plain sensitive color panels...To her the outcome of her images is 'a melted view of different times and different cultures as they are handed down to us through the arts'." (Kwai Fung Hin Art Gallery)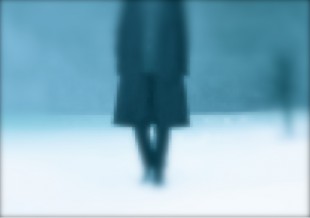 Overgrown
April 8 - New album by James Blake. Good stuff.

Soundbreaker
April 6 - I like films about music and musicians. I like watching them. I like collecting them. (And of course I like making them). This one is a treasure: Soundbreaker by Kimmo Koskela. A portrait of "Finland's most daring musician", the accordionist, composer, performer Kimmo Pohjonen. Made in 2012, the film not only portrays an extreme artist, but also displays 86 minutes of outstanding cinematography. But foremost the musician presents a feast for the ears: "Extraordinary sounds explode from his custom built accordion and its bellows including electronic effects, accordion samples, voice, farm machines, animals and string quartet. Pohjonen bridges the gap between experimental, rock, folk and classic genres in fact creating an entirely new accordion music world. His performances are reminiscent of the violence of Roman gladiators and the castigation of medieval monks. The film is a journey of an exceptional artist grounded in basic human truths." (imdb, written by Anonymus)

Pandit Pran Nath
March 31 - Easter Sunday. Research for a seminar on minimal music (I prepare in collaboration with musicologist Dr. Yvonne Wasserloos). I watch and rewatch In Between the Notes, a short portrait of Indian master singer Pandit Pran Nath. An excellent documentary film made by William Farley in 1986. With Terry Riley, La Monte Young and Marian Zazeela. "Music is an instrument of worship. Music is part of the making of a human beeing. And it's transmission becomes a sacred and important act in ones life", states Narayana Menon , a scholar of classical Indian dance and classical Indian music. And the protagonist of the film knows: "Without spiritual help music has no effect. Music may be just special effect making. Spiritual help is necessary to the musician."

Matutin and laudes
March 29 - Good Friday. 9:30 am in the Cathedral in Mainz. The Cathedral's Choir sings: "Omnes amici mei dereliquerunt me..." (M.A. Ingegneri, 1545 - 1592) I listen to the sounds...vanishing in the immense basilica - a thousand years old.

Equilibrium
March 28 - Five and a half minutes of balance. Thank you, Mark!

Just read: Burmese Days
March 21 - Burmese Days is the title of a novel by George Orwell, first published in 1934. A story about a group of Englishmen in Kyauktada in the waning days of British colonialism, when Burma (now Myanmar) was ruled as part of the Indian empire This is how the book starts: "Flory was a man of about thirty-five, of middle height, not ill made. He had very black, stiff hair growing low on his head, and a cropped black moustache, and his skin, naturally sallow, was discoloured by the sun. Not having grown fat or bald he did not look older than his age, but his face was very haggard in spite of the sunburn, with lank cheeks and a sunken, withered look round the eyes. He had obviously not shaved this morning. He was dressed in the usual white shirt, khaki drill shorts and stockings, but instead of a topi he wore a battered Terai hat, cocked over one eye. He carried a bamboo stick with a wrist-thong, and a black cocker spaniel named Flo was ambling after him. All these were secondary impressions, however. The first thing that one noticed in Flory was a hideous birthmark stretching in a ragged crescent down his left cheek, from the eye to the corner of the mouth. Seen from the left side his face had a battered, woebegone look, as though the birthmark had been a bruise - for it was a dark blue in colour. He was quite aware of its hideousness."

Kanata Mix
March 19 - Kanata Mix: a music video I produced in a joint venture with Maurice Braun and Sebastian Gramss. Kanata is the title of a CD by oirTrio, recorded live at Loft in Cologne in December 2008. oirTrio is a Free Improvisation trio: Frank Gratkowski (alto sax, clarinets), Sebastian Gramss (double bass, bows) and Tatsuya Nakatani (percussion, bowed gongs). Originally the images for the video were used in a 22 minute film for Einblicke: a project with five musicians and five film makers. Each one of the five musicians invited a film maker for collaboration. The idea was to give "insights" into the private lifes of the musicians. The participating musicians were Gunda Gottschalk (violine), Sebastian Gramss, (double bass), Carl Ludwig Hirsch (tuba), Angelika Sheridan (flute) and Ute Voelker (accordion). The other video artists were Wasiliki Noulesa, Gudrun Barenbrock, Sven Hahne and Antje Steinborn.

Cherry Tree
March 12 - More snow.

New Street
March 8 - Opening of an exhibition with photographs by Beat Streuli at Galerie Jochen Hempel in Berlin. In an installation with three large projections and an occasional sound track with street noises, the swiss artist shows more than six hundred photographs he shot in Birmingham (England) and Castellón (Spain): "Streuli's easygoing style belies an exacting kind of photography. There is composition and editing, cropping and sequencing that is very much in keeping with the careful preperation and camerawork involved. There is no digital manipulation of the imagery itself, and so the result overall is as objective as it is personal. It is Beat Streuli's pictorial record of what occured to him while he was on the streets of Birmingham and Castellón." (Lorenza Barboni and Jonathan Watkins)

Morning prayer
March 2 - Early morning walk at Hahnheimer Bruch, a bird sanctuary in Rheinhessen. I observe the water landings of brant and ducks. And I listen to their morning conversations. A line from Barry Lopez' book Arctic Dreams (1989) comes to mind: "In a simple bow from the waist before the nest of the horned lark, you are able to stake your life, again, in what you dream."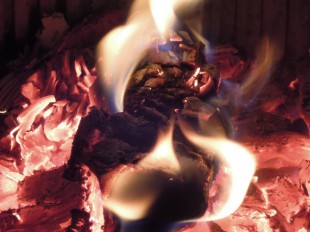 Watching the fire
February 24 - ...for hours on end.

Just read: The Glass Palace
February 20 - Finished reading Amitav Gosh's masterpiece The Glass Palace, published 13 years ago. "When you have your final sigh and turn the last page ... you feel as if you've travelled for 100 years on foot, through the most distant and lush lands on the globe. The Glass Palace is as close as a person tucked cozily into an armchair on a rainy day can get to the rubber plantations of Malaysia, the teak forests of Burma, and the bustling city streets of Rangoon and Singapore, bearing witness to the demise of the Burmese monarchy and the rise and fall of the British Empire." (Minna Proctor) That's how the detailed family saga starts: "There was only one person in the food-stall who knew exactly what that sound was that was rolling in acros the plain, along the silver curve of the Irrawaddy, to the western wall of Manadaly's fort. His name was Rajkumar and he was an Indian, a boy of eleven - not an authority to be relied upon."

video realism
February 18 - Four months after its creation the PLACES_IN_TIME | vimeo channel welcomes clip number 100! It is a beautiful shot by Peter Fristedt called A Stockholm minute 1/7 2012. Peter is doing his Stockholm minutes since two years and has uploaded more than a hundred to vimeo. The rules for PLACES_IN_TIME | vimeo are simple: 1 shot, 1 minute, original soundtrack. The motto is a verse from the poem Ash Wednesday by T.S. Eliot:
Because I know that time is always time
And place is always and only place
And what is actual is actual only for one time
And only for one place.

Phonokino is a series of films/videos presented by the Society for the advancement of phonography & experimental music. On a regular basis they show experimental music/phonography videos. On February 10 at 8 pm one of the works in the showreel is PLACES_IN_TIME | norwayfjiords. The show starts at 8 pm at the Institut für neue Medien, Schmickstraße 18 in 60314 Frankfurt.
Documentaries
February 5 - Discovered Op-Docs, a forum for short, opinionated documentaries curated by the New York Times' editorial department: " Op-Docs videos are produced by both renowned and emerging filmmakers who express their views in the first person, through their subjects or more subtly through an artistic approach to a topic. Each is accompanied by a director's statement."(NYT)

SITTING
February 3 - Thoroughly enjoyed the newly released DVD Marina Abramovic - The Artist is Present. The feature length documentary film by American filmmaker Matthew Akers is a portrait of the Serbian performance artist Marina Abramovic, who for almost 40 years uses "her body as a vehicle, pushing herself beyond her physical and mental limits - and at times risking her life in the process. She creates performances that challenge, shock and move us." (DVD website) The preperation of a retrospective and its three month exhibition at the Museum of Modern Art in New York is the "narrative spine" of the film. At the center of the show is a new piece: "All day, every day, from early March until the end of May 2010 she will sit at a table in the museum atrium, in what she describes as a ′square of light′. Members of the audience will be invited to join her, one at a time, at the opposite end of the table. There will be no talking, no touching, no overt communication of any kind. Her objective is to achive a luminous state of beeing and then transmit it - to engage in what she calls 'an energy dialogue' with the audience." (from the proposal)

Transfigured Nights
January 28 to February 1 - Concert series at Robert Schumann University for Music and Media: Second Viennese School and Brahms - put together by Prof. Ruediger Bohn. The students from my multi camera course record five concerts. I enjoy their self-reliance and the music by Arnold Schoenberg, Anton Webern, Alban Berg and Johannes Brahms.

Cherry tree
January 21 - "You make the fire and I'll show you something wonderful: a big ball of snow!" (Matsuo Basho, 1644 - 1694)

3.141592653589793238462643383279502884197169399...
January 19 - Life of Pi by Taiwanese born American film director Ang Lee at cinestar in Mainz. "We need storytelling. Otherwise life just goes on and on like the number Pi." (Ang Lee)

"It's the way you look at things"
January 18 - Cologne, Museum Ludwig. New landscape works by David Hockney. Vivid paintings and iPad drawings inspired by the East Yorkshire landscape. Included are a series of new films produced using 9 cameras simultaneously, which are displayed on multiple screens. "When you really look at nature like I have been doing…I mean really look, then you quickly realise we are just insects, stupid little creatures. And you do get a bit of humility." (David Hockney in an interview with The Guardian in 2009)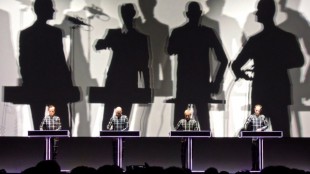 Gesamtkunstwerk
January 17 - Duesseldorf, Kunstsammlung NRW K20. In eight live performances world famous electronic music pioneers Kraftwerk presented all they got: "KRAFTWERK - THE CATALOGUE 1 2 3 4 5 6 7 8" - the complete works. It was the first series of concerts after more than 20 years in their home town. I was lucky to get two of the rare tickets for concert number 5: Computer World. Great show with 3 D visuals and a convincing 3 D sound system. Retro cool.
Die Roboter
Wir laden unsere Batterie
Jetzt sind wir voller Energie
Wir sind die Roboter
Ja tvoi sluga
Ja tvoi Rabotnik robotnik
Wir funktionieren automatik
Jetzt wollen wir tanzen mechanik
Wir sind die Roboter
Wir sind auf Alles programmiert
Und was du willst wird ausgeführt

New Year
January 1 - "It's not good manners to discuss the point of the question." (Eric Satie as quoted by John Cage in How To Get Out Of The Cage, a film by Frank Scheffer.)