Book of the Beach
I am reading "The New Zealand Book of the Beach", a collection of stories selected by Graeme Lay. With stories by New Zealand authors about the beach: "New Zealand has a 6000 km long coastline and nowhere in the country is more than a two -hour drive from the sea. Consequently its people have an abiding love of the beach and the sea, both of which have become an integral part of the country's consciousness. Novelist Maurice Shadpolt put it well. 'New Zealand', he wrote, begins and ends with the sea. Understand this and you begin to comprehend New Zealand and the New Zealander' Sharing a border with no country, New Zealand's coastline is its defining frontier." The book begins with a story by Katherine Mansfield, titled "At the Bay". The last chapter of this story has only four sentences: "A cloud, small, serene, floated across the moon. In that moment of darkness the sea sounded deep, troubled. Then the cloud sailed away, and the sound of the sea was a vague murmur, as though it waked out of a dark dream. All was still."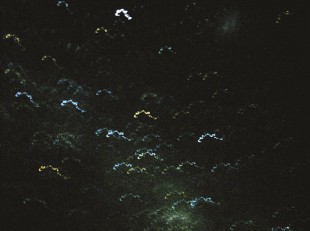 Heaphy Track
December 29 - 30: Two days on the Heaphy Track, a 82 kilometer walking track in the Kahurangi National Park at the north-west corner of New Zealand's South Island. At night I see one of the clearest night skies I've ever seen. I am so enchanted, that I take photos with exposure times of two minutes and more - without a tripod.

Gentle Annie 24
December 24 - Gentle Annie's Point is a rocky plateau stretching out into the Tasman Sea north of the Mokihinui River on the West Coast of New Zealand's South Island. It's a full moon. Starting at 1 am and ending at 12 pm I take 24 photographs, a 24 minute video take and sound takes from and around the landmark. It is part of my ongoing PLACES_IN_TIME project.

Farewell
December 13 - Nineteen days after suffering a cerebral hemorrhage my old friend Andreas Wald - gifted story teller, performer, graphic artist and expert in islamic art - died last night in a hospital in Berlin. He was among the most dignified people I had the privilege to meet and work with. He was 56 years old. I take a deep bow.

New Brighton Beach
December 10 - preparatory photo studies for PLACES_IN_TIME.

New Brighton Beach
December 8 - preparatory photo studies for PLACES_IN_TIME.

New Brighton Beach
December 6 - preparatory photo studies for PLACES_IN_TIME.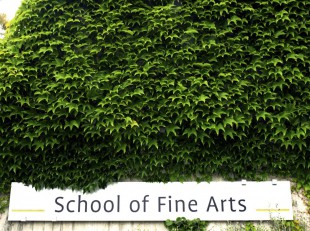 School of Fine Arts
December 6 - Meeting John Chrisstoffels at the School of Fine Arts on the Campus of the University of Canterbury. John is a respected Film Director, Cinematographer and Editior in the New Zealand Film industry and teaches film at the School of Fine Arts, the longest established art school in New Zealand. Many of New Zealand's leading artists and scholars have either taught at the school, or have been students. He gives me a tour of the studios and workshops and explains the structure of their Bachelor of Fine Arts (BFA). It is a four-year degree offering specialisation in six different visual arts and design subjects: sculpture, painting, printmaking, photography, film and design.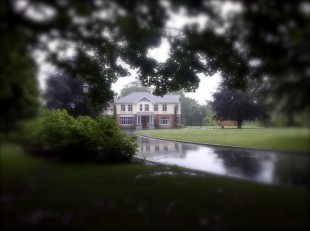 Staff Club
December 5 - Lunch at the Staff Club of the University of Canterbury with Sharon Mazer and Peter Falkenberg of the Theatre and Film Studies Department. On the way there Peter Falkenberg tells me of the cinematic interest of the building. Peter Jackson used the house and the surrounding park in his 1994 fantasy thriller Heavenly Creatures. The film is based on a murder in the year 1954 committed by two teenage girls in Christchurch. It features Melanie Lynskey as Pauline Parker and Kate Winslet as Juliet Hulme and "deals with the obsessive relationship between Pauline and Juliet, who vow to murder Pauline's mother in order to avoid a potential separation" (Wikipedia).

HIT Lab NZ
December 4 - meeting Christina Dicke at the HIT Lab NZ on the Campus of the University of Canterbury. HIT Lab stands for Human Interface Technology Laboratory and is a University based research centre, an offshoot of the famous HIT Lab in Seattle. Their research areas include augmented reality, immersive reality, wearable computing, tangible user interfaces, collaborative spaces and computer vision. Christina Dicke is "a graduate (B.A.) from the University of Paderborn where she studied literature, media and philosophy. She left Paderborn and started working in Berlin as a freelance interaction designer. In 2003 she gained a Master´s degree in E-Business at the University of the Arts, Berlin. She recently started her Ph.D. at the HIT Lab NZ. Her main focus is on auditory user interfaces for use in a mobile context." Over a hearty indian meal Christina tells me about some of HIT Labs projects and explains her current research, in which she wants to find out about the efficiency of auditory interfaces in comparison to visual interfaces.


Christchurch Art Gallery
November 18 - visiting the new Christchurch Art Gallery | Te Puna o Waiwhetu. The building, designed by The Buchanan Group, opened in 2003. "It features a flowing glass and metal sculpture wall evoking the sinuous form of the koru and the River Avon that flows through Christchurch." I look at Art School 125, an exhibition that features work by former students of the University of Canterbury's School of Fine Arts such as Margaret Stoddart, Shane Cotton, Ronnie van Hout, William Sutton, Leo Bensemann, Francis Upritchard and Bill Culbert. The exhibition provides a good insight into the local art scene and its history. Another exhibition is called Another Destination, profiling five young artists from the area. Impressive I find James Oram's work All about Me: A black and white video projection of a man cycling away on a home trainer. He creates the power that illuminates light bulbs on the wall that read "ME". The harder he pushes the pedals, the more light is shining on him.

Books with a view

New Brighton is a pretty, but somewhat neglected suburb of Christchurch, that features a small architectural sensation: New Brighton Library (or, in the language of the Maori: The Kete Wananga o Karoro), a library at the beach. The building, that was opened in 1997, is part of a long concrete pier, that stretches out for 300 meters into the ocean. It has a great view of the sea and comfortable armchairs where visitors can sit and read or listen to music. The fact, that there is a place for contemplation where you would expect souvenir shops and arcade games, is so unusual, that it seems unreal and utopian. Far-out!

Reunion
We met when we went to school. More than 25 years ago he immigrated with his family to New Zealand. Today he is a successful designer, working with museums all over the world, designing the hinges and glass fronts for fancy museum show cases. My old friend Manfred Frank. Thanks for the pickup!

Auckland
November 15 - Lecture at AUT University: "A unique approach in technical and creative education - The Institute For Music And Media (IMM)".

Hongkong Island
The fronts of buildings have become giant billboards with changing lights and moving images. Almost "naturally" they are evolving into huge urban screens and open up creative opportunities for graphic designers, film makers and video engineers.

Hongkong
November 9 - Stopover in Hongkong on my way to New Zealand, where I will spend my sabbatical. After a lecture at AUT University in Auckland I will be in Christchurch, following an invitation by Te Puna Toi (Performance Research Project, NZ) at the Theatre and Film Studies Department at the University of Canterbury. I will work on my video project PLACES_IN_TIME.

Halloween
Sweeping leaves under the cherry tree.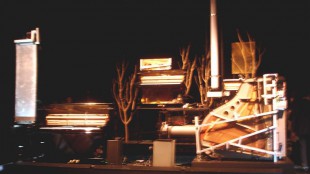 Stifters Dinge
October 28 - Opening of Heiner Goebbels's new piece at Bockenheimer Depot in Frankfurt. "The Pianopiece without pianist, the play without actors" is an installation, that brings to mind the work of Jean Tinguely. For 70 minutes THE MACHINE produces light, sounds, and images and invites the audience to see and hear a fascinating world of association and provisional sensation.

Yellow tree
The leaves on the cherry tree outside our house have turned yellow.
Images of Music
October 24 to 27 - With IMM student Nanna Schmidt and former student Christoph Seibert I attend the 4th Television Forum for Music in Bremen hosted by Katrin Rabus: "Within the context of the most important new music films directors, editors, producers, musicians, promoters and responsible staff members of television stations discuss ways of promoting music films as part of music life." Two impressive films we see are Variations V, a film produced in 1966 by NDR (a German public broadcaster) about an experimental music and dance project by John Cage and Merce Cunningham and Hitler's Hitparade, a 75-minute film by Oliver Axer und Susanne Benze produced by C.Cay Wesnigk in 2003. Hitler's Hitparade is a brilliant collage of unseen archival footage cut to popular music from the Third Reich. The real highlight of the conference is a live concert by Kuss Quartet. They play the Great Fugue, op 133 by Ludwig van Beethoven and Grido by Helmut Lachenmann. Christoph Seibert's video installation QUARTETT, in which Kuss Quartett is featured, is presented before and after the concert.


Talking Pictures
October 19 - Visit to K 21, the museum for art of the 21st century in Duesseldorf. The exhibition TALKING PICTURES features video art with a specific interest in theatrical forms and expressions. It presents ten large-scale film and video installations each with its own specially designed theatrical setting. The work shown in the picture is called "Seven Intellectuals in Bamboo Forrest" by Chinese artist Yang Fudong.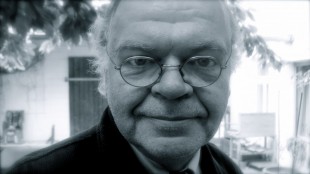 Effendi visiting
October 2 - When summer ends, the Berliner goes south. On his way to the Black Forrest my old friend Andreas Wald, gifted story teller, performer, graphic artist and expert in islamic art, comes to stay for an evening of inspiration.

Vintage in Rheinhessen
End of September - the harvest of grapes is in full swing in the vineyards around our village.


One more ride
Reading his last book earlier this year, turned me on to his voice. "Un Altro Giro Di Giostra" ("One more Ride on the Merry-go-round") is Tiziano Terzani's book before. Again it's a journey.
He travels in search for healing,
looking at the world through the eyes of a man with cancer. What he sees is change, reflected by the critical mind of a journalist and tinted by the heart of a romantic. It's a well written book, intelligent and sometimes wise.

Phaedra in Brussels
September 20 - I accompany my wife to Brussels. She reads from the work by Swiss writer Annemarie Schwarzenbach in a symposium at the Royal Academy. We go to La Monnaie to see "Pheadra", the new opera by Hans Werner Henze. An impressive evening staged by Peter Mussbach in a collaborative work with light artist Olafur Eliasson. Music performed by Ensemble Modern with soloists Maria Riccarda Wesseling, Marlis Petersen, John Mark Ainsley, Axel Köhler, Lauri Vasar. What a pleasure to hear and see - beyond taste - first class quality.

Cologne
September 11 - Round table talk about the different aproaches of film and media studies in North Rhine-Westphalia at the Academy of Media Arts in Cologne. On my way back to the train station I visit the Cathedral in order to see the new window, that was inaugurated on August 25. The work by celebrated German artist Gerhard Richter is made out of 11 500 colorful squares. The design goes back to his painting 4096 Farben from 1974, in which he copied randomly the sample cards for colors that he got from a painter shop. The huge window is beautiful - and it kicks off an unusual kind of present-day contemplation. I see the pixels on a screen, the matrix, the womb of the virtual world, spirituality in digitality.

IBC2007
September 10 - Checking out the newest technological trends in film and broadcasting at the IBC in Amsterdam. There is no doubt, the technical quality of images gets better: HD, 2K, 4K. Noteworthy the presentation of RED. It is a completely new aproach to cinematography. If only half of what they promise is true, "the word revolution is apropriate". They show a trailer of Crossing the Line, a new film by Peter Jackson, who used two prototype cameras of the RED ONE. The most astonishing feature of the new digital camera is its price tag: $17,500. They quote Steven Soderbergh: "This is the camera I've been waiting for my whole career: jaw-dropping imagery recorded onboard a camera light enough to hold with one hand. ...RED is going to change everything." We will see.

Paradiso Amsterdam
September 9 - On the way to the International Broadcastic Convention in Amsterdam I cannot resist to revisit famous Paradiso (first time I was here in 1968, shortly after it's opening - behind the back of my parents). The program is called "Marmoucha Maghreb Dance-Wayo", Marrocan Hip Hop, featuring BIGG from Casablanca, Ashekman from Beirut and Salah Edin from the Netherlands. Above all it was LOUD.

Listening at Lake Starnberg
September 6, 7 and 8: "Hör' mal schnell - Listen quickly" is the title of a three day symposium at the Evangelische Akademie in Tutzing. It is part of a project called "Ecology of Time". Apart from keynotes from various scientific fields they show Touch the Sound, a film about the accoustic world of percussionist Evelyn Glennie. And they offer different hearing experiences. I participate in an ear opening sound walk with Dr. Justin Winkler, who, ten years ago, was a protagonist in DIE OHRENZEUGEN / THE EARWITNESSES, a film essay I made for French-German cultural channel Arte.

Guest from Boston
Prof. Dr. Anthony Deritis, head of the Music Department at Boston's Northeastern University, stopped by at the Institute For Music And Media in order to sign a contract of cooperation. We plan to exchange students and work on joint projects. After the official signing at the Rektor's office, we visited Insel Hombroich, a unique art museum with several exhibition buildings in a natural setting outside Duesseldorf.

Beethovenfest Bonn
July 26 - Opening of Christoph Seibert's QUARTETT on the occasion of the Beethovenfest 2007. As part of the "Look at Beethoven" program, curated by Katrin Rabus, the video installation can be seen throughout the Festival at the Kammermusiksaal in the Beethovenhalle. After the opening we were invited to the concert of the Deutsche Kammerphilharmonie Bremen, conducted by Paavo Järvi. On the program Ludwig van Beethoven: "Consecration of the House", Overture, op. 124; Ludwig van Beethoven: Concerto for Violin and Orchestra in D major, op. 61 (setting for flute and orchestra) and Ludwig van Beethoven Symphony No. 6 in F major, op. 68 ("Pastorale").

Back to work
August - I am focussing on the application for the accreditation of two new Bachelor programs at the Institute For Music And Media, that are intended to substitute the present graduate diploma programme in Audio and Video Engineering. Simultaneously I am preparing a sabbatical, that I was granted for the forthcoming winter semester.

Summer reading
"The Heart of the World. A Journey to the Last Secret Place" by Ian Baker in a great translation by Hans-Ulrich Möhring. An account of a number of expeditions to the River Tsangpo in Tibet in search for hidden water falls - and a tale of timeless search for meaning.

Summer vacation
July 20 - August 4: two weeks in a cabin on a mountain pasture at the foothills of the Alps.
Long-lasting views at mountains and streams. Sounds of cow bells and wind.

Summer swim
Swimming in the outdoor pool - 20 x 50 m - twice a week.

Musica Sacra
July 1 - Attendance of Concert at the Cathedral in Mainz: "Adagio for Strings" by Samuel Barber, "From Canterbury Lane" and "Festival Mass" by Ludolph Arens. Performed in a collaboration by Domkantorei St. Martin, Mainzer Domchor and the International Youth Symphony Orchestra Blue Lake, Michigan.

Wolfsburg
June 29 - With a small group of students and my collegue Volker Anding I visit "Between Darkness and Light", an Exhibition of works by Scottish video artist Douglas Gordon at the Kunstmuseum Wolfsburg. Douglas Gordon addresses the familiarity of moving pictures by manipulating, enlarging and superimposing them in order to alter the viewers' perceptions. He provokes feelings of anxiety and amnesia and plays with the reception of media today.

Birds of prey
A pair of kestrel (Falco tinnunculus) uses the tall truce next to our house as observation deck. We watch them with a pair of binoculars - one of them devours a mouse. In the morning we find the leftovers in the grass. Luna and Pepper, the loose rabbits in our garden, seem unimpressed.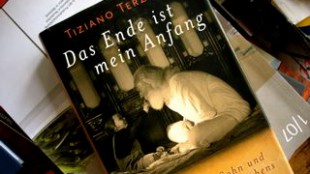 Good read
"Das Ende ist mein Anfang" ("La fine è il mio inizio") : A father tells his son about the journey of his life. Tiziano Terzani, for many years SPIEGEL correspondent in Asia, is facing death. He writes a letter to his son Folco and asks him to listen to his last stories. He talks about embracing life and embracing death. And in a very personal, subjective way he sketches some of the most important historical events of the last 35 years. In search of truth.


19th medienforum.nrw
June 19, Cologne - For one day I attend the medienforum.nrw, which this year takes place between June 18th and 20th. It's motto is "Media Society of the Future ". I hear keynotes and panel discussions on "Games and Broadcasting", "New Worlds of Newspapers", "International Programming Trends in Television" and "Multimedia Education for Journalists". Lots of talk about products and money - little about content.


Cherry month
The cherry tree outside our front door is full of fruit and the days start with a mouthful of sweet - and a heartfelt "Thank You"! (The older the month gets, the higher we have to climb.)


Lecture at Utrecht School of the Arts
June 7 - I am following an invitation by Rens Machielse, head of the Art, Media and Music Department at the Utrecht School of the Arts. I show STEVE REICH: CITY LIFE, a 60 minute film I wrote and directed in 1994, and talk about the concept of the film and its production.


Jupiter visiting
June 5 - 76 years old Ted Simon, protagonist of JUPITERS TRAVELS - THE VIDEO, comes visiting from California. He is on his way to a motorbike rallye in Ortenberg / Lissberg to promote his newly published book Dreaming of Jupiter and sell even more copies of Jupiters Travels .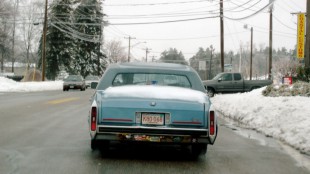 Boston 2007
At the beginning of March I visit Boston, following an invitation by Prof. Dr. Anthony De Ritis of Northeastern University. He shows me his Music and Digital Media Departments and we discuss ideas for a possible cooperation between our two universities. I revisit the Media Lab on the M.I.T. Campus , where 12 years ago, I shot DIE HYPERMASCHINE, a 60 minute film about virtual realities and the people constructing them. At Harvards Carpenter Center of Visual Arts I see "TELL ME!...a secret...", an impressive exhibition of interactive art by German composer Hans Tutschku, who

has been working as composition professor and director of the electroacoustic studios at Harvard University. " TELL ME!...a secret..." is built around two interactive sound and video installations which invite the viewer to become, quite literally, part of the art.