Cherry Tree
December 28 - First snow on black branches. Little footprints from mice on the ground.

New release
December - Now available from gruenrekorder: PLACES_IN_TIME | Thailand & Myanmar.

Reading
December 25 - Haruki Murakami: The Men Without Women. "Habara didn't know whether her stories were true, invented, or partly true and partly invented. He had no way of telling. Reality and supposition, observation and pure fancy seemed jumbled together in her narratives. Habara therefore enjoyed them as a child might, without questioning too much. What possible difference could it make to him, after all, if they were lies or truth, or a complicated patchwork of the two?" (from Sheherazade, one of seven short stories in The Men Without Women')

Music
December - Neon City, a CD from 2004 by Deaf Center.

Places
December 18 to 21 - Kloster St. Maria, Esthal. Contemplation. I reread the chapter "Seeing" in Annie Dillard's Pilgrim at Tinker Creek: "There is another kind of seeing that involves letting go. When I see this way I sway transfixed and emptied. The difference between the two ways of seeing is the difference between walking with and without a camera. When I walk with a camera I walk from shot to shot, reading the light on a calibrated meter. When I walk without a camera, my own shutter opens, and the moment's light prints on my own silver gut. When I see this second way I am above all an unscrupulous observer...The effort is really a discipline requiring a lifetime of dedicated struggle; it marks the literature of saints and monks of every order East and West, under every rule and no rule, discalced and shod. The world's spiritual geniuses seem to discover universally that the mind's muddy river, this ceaseless flow of trivia and trash, cannot be dammed, and that trying to damm it is a waste of effort that might lead to madness. Instead you must allow the muddy river to flow unheeded in the dim channels of consciousness; you raise your sights; you look along it, mildly, acknowledging its presence without interest and gazing beyond it into the realm of the real where subjects and objects act and rest purely, without utterance."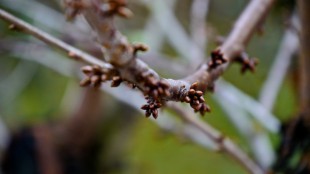 Cherry Tree
December 13 - Winter buds. "What a rich book might be made about buds, writes Thoreau, "including, perhaps, sprouts!" (The Journal of Henry D. Thoreau)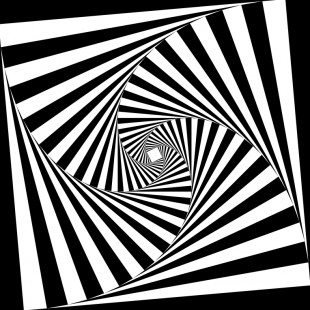 Reading
December - The Ego Tunnel by German philosopher Thomas Metzinger: "In this book I will try to convince you that there is no such thing as a self. Contrary to what most people believe, nobody has ever been or had a self. But it is not just that the modern philosophy of mind and cognitive neuroscience together are about to shatter the myth of the self. It has now become clear that we will never solve the philosophical puzzle of consciousness - that is, how it can arise in the brain, which is a purely physical object - if we don't come to terms with this simple proposition: that to the best of our current knowledge there is no thing, no indivisible entity, that is us, neither in the brain nor in some metaphysical realm beyond this world. So when we speak of conscious experience as a subjective phenomenon, what is the entity having these experiences?"


Movies
November 28 - At Palatin in Mainz: Force Majeure (Höhere Gewalt) by Swedish director Ruben Östlund. A Swedish family on a ski holiday in the French Alps. The spray of an avalanche during lunch rips the social fabric of the nuclear family.

Music
November 19 + 20 - Approximation Festival 2014 at Salon des Amateurs in Duesseldorf. I hear Maya Dunietz, Thomas Ankersmit, Phill Niblock, Pamela Z and Deaf Center.

Cherry Tree
November 18 - "The falling leaves drift by my window, the autumn leaves of red and gold..." (Autumn Leaves)

Exhibition
November 14 - K20 in Duesseldorf: To Egypt! The Travels of Max Slevogt and Paul Klee. "The exhibition juxtaposes the works of a pair of artists who, although coexisting during the same period, exemplify highly divergent pictorial traditions and intellectual worlds." (Kunstsammlung NRW)

Movies
October 3 - Double bill on television (arte): The 400 blows (Les quatre cents coups), a 1959 french film by François Truffaut and immediately afterwards Wim Wender's Der Himmel über Berlin (Wings of Desire) from 1987. Damiel (Bruno Ganz) and Cassiel (Otto Sander), two angels hungry for real sense experiences, sit on the front seats of an open-top roadster in the shop window of a car dealer in West-Berlin. Damiel: "It's great to live only by the spirit, to testify day by day for eternity only to the spiritual side of people. But sometimes I get fed up with my spiritual existence. Instead of forever hovering above I'd like to feel some weight to me, to end my eternity and bind me to earth. Not that I want to beget a child or plant a tree. But it would be quite something to come home after a long day, like Philip Marlowe, and feed the cat. To have a fever. To have blackened fingers from the newspaper. To be excited not only by the mind, but - at last - by a meal, by the curve of a neck, by an ear. To lie! Through one's teeth. As you're walking, to feel your bones moving along. Finally to guess, instead of knowing all. To be able to say 'Ah!' and 'Oh!' and 'Hey!' instead of 'Yes' and 'Amen'."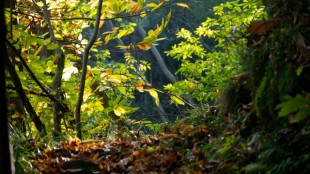 Walking
October 24 to 26 - Walking slow from Edenkoben to Albersweiler. Between vineyards and forest: "up and down and in the end its only round and round and round..." ("Us and Them", Pink Floyd). Thank you for your company, Micha.

Cherry Tree
October 18 - Golden light
yellow leaf
autumn afternoon


Flocking behaviour
October 5 - Before sunset. Large flocks of starlings fly from their feeding sites (the vineyards) to their roosts. Expanding, contracting, dancing to an unheard music, following the directions of an unseen choreographer.

Flavours and tastes
October 4 - Harvest. Quince, zucchini, squash. Boiling, reducing, concentrating. The conservation of tastes and flavours. Glasses filled with pickles and chutneys.

Places
September 14 to 27 - Two weeks of documentary shooting with three of my students (Alex Kuehn, David Fuesgen and Moritz Hils) in Tuscanny. We follow 50 students from the seven music and art academies in North Rhine-Westphalia. They are invited to participate in this years European College for Music and Art at Palazzo Ricci in Montepulciano. Under the topic "UeberSetzen/TransLate/TraDurre" they cooperate in transdisciplinary projects.

Walking
September 2 and 3 - Two day hike along Pfaelzer Weinsteig: Villa Ludwigshöehe, Mariengrotte, Walddusche, St. Annna Huette, Orensfelsen, Landauer Huette, Rambach. This is Slevogt country - landscapes, that were captured by the German impressionist painter and illustrator Max Slevogt (1868 - 1932).

Cinema
August 23 - Lucy, new film by Luc Besson with Scarlett Johansson, at Cinestar in Mainz. Absurd - but highly entertaining.

Places
August 4 - An afternoon in Salisbury Cathedral - mesmerized by the accoustics of the colossal nave.

Places
August 3 - Stonehenge. "One might almost suppose that it was specially designed to accomodate every notion that could possibly be projected onto it." (John Mitchell, 1981)

Music
August 2 - The Dream of Gerontius, for soloists, chorus and orchestra, by Edward Elgar (1857 - 1934) at Milton Abbey (near Blandford Forum in Dorset). With the award winning a capella group VOCES8.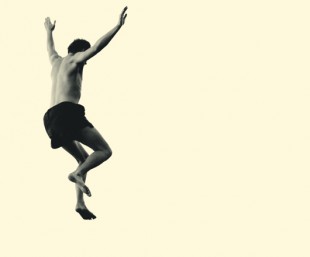 Reading
July - From Norwegian author Karl Ove Knausgård: Min Kamp, Book 4 (out of 6). I read the German version ("Leben"), in a translation by Ulrich Sonnenberg. Not only because of its reckless honesty the autobiographical project is considered a literary sensation. Says the author: "I guess I have a talent for humiliation, a place within me that experience can't reach, which is terrible in real life, but something that comes in handy in writing. It seems as though humiliation has become a career for me." After finishing the 600 pages of Book 4 I immediately start Book 1 ("Sterben").

Cinema
July 18 - Boyhood at Palatin in Mainz. Richard Linklaters new film was shot over a period of 11 years and tells the story of a boy growing up. Ellar Coltrane, the leading actor, did not know what he was getting into. At the start of production he was 6 years old, and 18 when the shoot was over. "It was like taking a great leap of faith into the future," Linklater says. "Most artistic endeavors strive to have a certain amount of control, but there were elements of this that would be out of anyone's control. There were going to be physical and emotional changes, and that was embraced. I was ready for it to be a constant collaboration between the initial ideas I had for the piece and the reality of the changes happening to the actors along the way. In a way, the film became a collaboration with time itself, and time can be a pretty good collaborator, if not always a predictable one."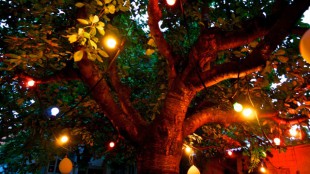 Cherry Tree
July 12 - Celebrations under the tree: birth, life, family, friendship, summer.
"There′s a party going on right here..." (Kool & The Gang)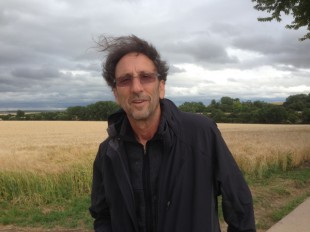 Friends
July 5 - Long time no see. We met in London in the late 70s, worked together, lived together and went for walks together. Mark Smith, Californian artist, designer, entrepreneur, family man comes for a flying visit - and we go for a walk.

Music
July 1 - Etudes for Piano, nos. 1-10 by Philip Glass at the Klavier-Festival Ruhr 2014. Performed by Philip Glass, Maki Namekawa and Dennis Russell Davies at the Geblaesehalle in Landschaftspark-Nord in Duisburg. "The Etudes began for me in the mid-90s. Their purpose was two-fold. First, to provide new music for my solo piano concerts. And second, for me to expand my piano technique with music that would enhance and challenge my playing. Hence, the name Etudes, or 'studies'. The result is a body of work that has a broad range of dynamic, tempo and emotion." (Philip Glass)

Exhibition
June 28 - Berlin, Martin Gropius Bau: David Bowie. "The exhibition honors Bowie's progressive approach through an immersive audio-visual design which fuses image and sound into a unique experience."

Music
June 25 - #SOURCEDOUT is the name of a cool marketing idea by the makers of Duesseldorf's Open Source Festival: Before the actual festival (July 12), they organise clandestine one hour concerts at surprise locations for an invited audience of not more than a hundred people. The audience meets at a bus station and is driven to an unidentified place. #SOURCEDOUT02 takes place in the middle of Halle 6, one of the huge exhibition spaces (25 000 m ²) at the fair grounds in Duesseldorf. On stage: grandbrothers, Erol Sarp and Lukas Vogel: "They are true strikers: as Erol Sarp conventionally works on the black and white keys, Lukas Vogel steers via a laptop a complicated apparatus of electromagnetic hammers that, from a grand piano, coax rhythms and sounds at the most unexpected moments. This is then sampled and looped and out comes a very cool sound – something between club, classic and experimental." (duesseldorf festival) The performance is recorded by a group of our students from the Institute For Music And Media.

Cherry Tree
June 22 - Thank you!

Walking
June 9 - Whit Monday. Very early morning walk in the fields and vineyards of Rheinhessen (the weather forecast predicts temperatures of 35° C and higher at noon). I listen to field pigeons, larks and airliners in the waiting loop.

Places
May 31 - Walk around Walden Pond, half an hour outside of Boston. It was here, that 1845 Henry David Thoreau started his social experiment. He built a modest cabin and lived - for two years, two months and two days - a simple, self-sufficient life. His book Walden - Life in the Woods is recognized as an American classic, that explores simplicity and natural beauty: "I went to the woods because I wished to live deliberately, to front only the essential facts of life, and see if I could not learn what it had to teach, and not, when I came to die, discover that I had not lived. I did not wish to live what was not life, living is so dear; nor did I wish to practice resignation, unless it was quite necessary. I wanted to live deep and suck out all the marrow of life, to live so sturdily and Spartan-like as to put to rout all that was not life, to cut a broad swath and shave close, to drive life into a corner, and reduce it to its lowest terms, and, if it proved to be mean, why then to get the whole and genuine meanness of it, and publish its meanness to the world; or if it were sublime, to know it by experience, and be able to give a true account of it in my next excursion." (Henry David Thoreau)
Music
May 30 - EELS live in concert at the Performance Center of the Berklee School of Music in Boston with "The Cautionary Tales of Mark Oliver Everett". F.A.Q.: "What is/are EELS?" A.: EELS is an ever-changing lineup of musicians that play the songs of singer/songwriter and multi-instrumentalist Mark Oliver Everett, also known as E, who grew-up in Virginia but now lives in the Silver Lake area of Los Angeles, CA. Sometimes it's just him and other times it's him and a few others. Sometimes it's him and many others."(EELS' website) This time it is him and four others.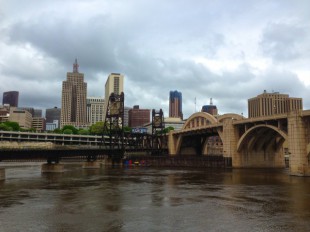 Places
May 27 to 31 - Visiting two partner institutions of the Institute For Music And Media in the US - in order to renew agreements of cooperation: McNally Smith College of Music in St. Paul (Minnesota) and the Department of Music at the College of Arts, Media and Design at Northeastern University in Boston.

Multicam
May 25 - In an intimate Live concert in his private court yard with the band Soul Buddha, German TV director Peter Schoenhofer demonstrates a new intuitive editing system for multicam editing with up to 24 cameras: Live2Line .

Reading
May 24 - Against Nature (The Notebooks) is the title of a new book by Norwegian writer Tomas Espedal. I read it in a translation by Hinrich Schmidt-Henkel. "Against Nature is an examination of factory work, love's labour, the job of writing" (the publisher). The author calls his story a "novel". Nevertheless he seems to draw a lot from his own experience of life. The simplicty and honesty of his writing reminds me of Max Frisch. Also the fact, that Espedal likes to keep diaries - like the Swiss author did. So I read Frisch's "novel" Montauk (1975) again. ("I should like to describe this day, just this day, our weekend together, how it came about and how it develops. I should like to tell it without inventing anything. In the role of a simple narrator.") Montauk then takes me to the recently published Aus dem Berliner Journal: selections from the legendary Berlin Diary, "one of the great treasures in Max Frischs posthumous papers". (Suhrkamp Verlag) "When I came to Berlin in 1973, I started keeping a diary again, the so-called Berlin Diary, about fellow authors, Grass, Johnson, about the Leipzig book fair...I've put a hold on it till twenty years after I'm dead: because the people involved, who will have more distance to it by then." (from: "I draw from experience" Volker Hage in conversation with Max Frisch, Berlin 2011)

Theater
May 20 - Maifestspiele Wiesbaden. "Gift", an intimate play by Dutch playwright Lot Vekemans. The account of a reunion: the waiting hall of a cemetery, a divorced couple, a common loss. We see the play in a staging by Deutsches Theater Berlin (Director: Christian Schwochow, SHE: Dagmar Manzel, HE: Ulrich Matthes). Bravo!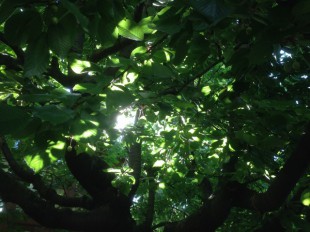 Cherry Tree
May 19 - How many shades of green?

Swimming
May 16 - Start of the outdoor pool season.

Theater
May 10 - Maifestspiele Wiesbaden. Once again: Uncle Vanja by Russian playwright Anton Chekhov; in a staging by Matthias Hartmann and the Ensemble of Burgtheater Wien. "A country house on a terrace. In front of it a garden. In an avenue of trees, under an old poplar, stands the table set for tea, with a samovar. Some benches and chairs stand near the table...It is three o'clock in the afternoon of a cloudy day." (Anton Chekhov)

Exhibition
April 17 - This exercise is about awareness! In collaboration with the Kunstsammlung K20 in Duesseldorf and in direct reference to the exhibition 'Kandinsky, Malevich, Mondrian: The Infinite White Abyss', Danish- Islandic artist Olafur Eliasson has developed an unusual project that prepares visitors for the exhibition. "Through his fusion of large-scale installation and digital app, Eliasson opens up a space of experience – an exploratorium that strives to counteract the progressive mummification of our senses by a ceaseless daily flood of images and information." The free app is called Your exhibition guide. In eleven short clips Eliasson talks directly to the visitor and gives directions. For example: "This exercise is about the relationship between your experience and time. There is in fact no experience without time. Having an experience - of course - takes time. By becoming aware of the temporal dimensions of our experience we gain an important tool for shaping our lives. Choose an art work in the exhibition and spend a minimum of two minutes with it. Be aware how the flow of time brings the artwork to your attention. Allow the artwork to express itself. Should you begin to feel bored or stressed just notice this feeling and see it as part of your experience. Go on repeat this with a different artwork - but increase the viewing time to four minutes. And after that, with another artwork, spend six minutes with it. Finally, choose a work of art, take your time, and spend ten minutes with it. You've now become your own keeper of time, not consuming it, but making time with art."

Cherry Tree
April 11 - Tea with a friend
mild petal light
buzzing all over



Cherry Tree
April 2 - Waiting for bees and bumblebees.

Cherry Tree
March 20 - Early buds.

Places
March 16 - Sunday stroll along the shore of Bodensee (Lake Constance). Stopping for a bite to eat at al eins. The former waiting hall of the ferry from Meersburg to Konstanz has been converted into a fine little bistro. The half round structure gives you the feeling of beeing in the middle of the lake. The owner is an award winning pastry chef. Great views combined with great tastes. Excellent combination.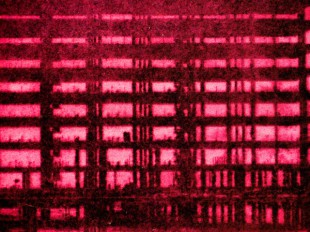 Music
March 14 - Volker Bertelmann, alias Hauschka, presents his new CD Abandonded City at an exclusive release party at Schloss Roland in Duesseldorf. Rhythmic patterns on the prepared piano. The case of the double album contains a booklet titled "Principles Of Survival". Under the heading "Instructions" it reads: "Waking nightmares and dark dreams can represent an insidious threat. Contemplate habits that encourage mental stability. Exercice steadily. Eat regularly. Sleep consistently. Ritual and regime are your gods in this place. A sound body supports a sound mind. It can be so easy for the gremlins to sneak in. There are nooks and crannies in one's mind that can never be sealed. Smash those gremlins. Smash them into oblivion. Ancient practices are the most potent, for they have withstood the test of time. Tai Chi brings strength and balance. It is not by happenstance that practioners of this discipline enjoyed the greatest lifespans under the reign of Hongwu. Beware the black bugs. One must keep them from burrowing under the skin at all costs. Wind and fire wheels."

Reading
March 10 - Admittedly: It took me months to get through the 900 pages: Der Nachsommer (Indian Summer), a novel in three volumes by Austrian writer Adalbert Stifter, published in 1857. "It is one of Stifter's great epic works, a most sensitive account of the formative years in the life of Heinrich, a student of natural sciences, born into a bourgeois environment, but influenced and gently guided by a nobleman, the old Baron von Risach."(google books) Stifter does not intend to tell something new. There are no concflicts, that drive the story, no excitement. Only roses. In an essay about the novel German literary critic Ulrich Greiner compares the reading experience with listening to minimal music. I did enjoy the idyllic atmosphere, the idealized description of the seasons. An unusual reading adventure: Like visiting a different world in a different time. Utopia?

Places

February 28 to March 4 - Escape from carneval. Walking on the beach in Holland.
La mer
Qu'on voit danser le long des golfes clairs
A des reflets d'argent
La mer
Des reflets changeants
Sous la pluieLa merAu ciel d'ete confond
Ses blancs moutons
Avec les anges si purs
La mer bergere d'azur
Infinie Voyez
Pres des etangs
Ces grands roseaux mouilles
Voyez
Ces oiseaux blancs
Et ces maisons rouillees La mer
Les a berces
Le long des golfes clairs
Et d'une chanson d'amour
La mer
A berce mon coeur pour la vie
(
Charles Trenet
, 1943)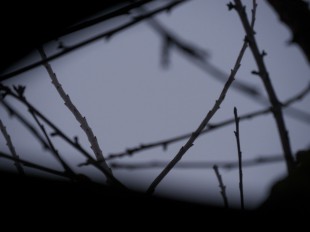 Cherry Tree
February 17 - "...on a winter's morn, on a foggy day..."
(adapted from Edward Lears The Jumblies)

Reading
February 2 - "Vom Juli seines zweiten Jahres an der Universität bis zum Januar des folgenden Jahres dachte Tsukuru Tazaki an nichts anderes als an den Tod. Er wurde in jenem Jahr zwanzig, was jedoch keinen nennenswerten Einschnitt für ihn bedeutete, denn zu der Zeit war ihm der Gedanke, sich das Leben zu nehmen, der nächste und natürlichste. Bis heute wusste er nicht, warum er den letzten Schritt nie vollzogen hatte. Denn die Schwelle vom Leben zum Tod zu überschreiten wäre damals so leicht für ihn gewesen, wie ein rohes Ei zu schlucken." Haruki Murakami, in a translation by Ursula Gräfe: Die Pilgerjahre des farblosen Herrn Tazaki. Highly addictive!

Television
January 26 to February 9 - TREME. An American television series. New Orleans, three months after Hurricane Katrina: musicians, restaurant chefs, carnival aficionados. Only source music. "Music saturates the show. Each episode is titled after a classic New Orleans song. Second to Katrina, it's largely the thread that links the lives and storylines of musicians and nonmusician characters alike. As in any TV show or film, music sets the mood, but in Treme, the songs themselves help tell the story of New Orleans." (Alison Fensterstock in American Songwriter)This definitely is more than TV! We see the first two seasons and have a hell of a party.

Music
January 17 - The Jazztage Mainz are curated by Klangraum, a team of three professional musicians. They own a recording studio and are usually busy making music for films and television. Once a year they invite friends, collaborators and young talent on stage. I enjoy a great set by Torsten de Winkel and his «Idiot Savans».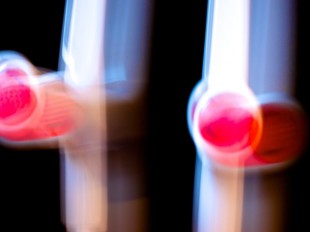 Accident
January 14 - One false step - and a partial rapture of my achilles tendon forces me to slow down. Ouch!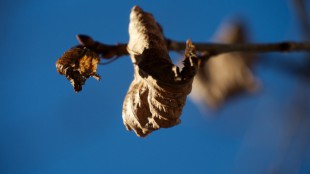 Cherry Tree
January 10 - Winter sun light.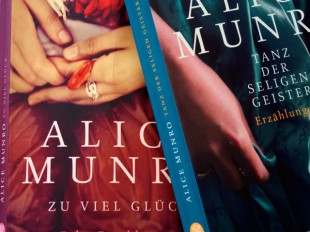 Reading
January 5 - Until the Swedish Academy had announced the name of the 2013 Nobel Laureate in Literature on October 10, I had never heard of it: Alice Munro.

An 82 year old

"Canadian English-language writer. She began writing stories as a teenager, but her debut in book form took place only in 1968 with the story collection 'Dance of the Happy Shades'. Munro has been appreciated for her finely tuned storytelling, characterized by clarity and psychological realism. Her stories are often set in small town environments, where people's struggle for a decent life often result in difficult relationships and moral conflicts."

(Nobel Media)

.

After the ten stories in Too Much Happiness (translated into German by Heidi Zernig) I am hungry for more.

New Year
January 1 - "Whatever we see is changing, losing its balance.
The reason everything looks beautiful is because it is out of balance,
but its background is always in perfect harmony."
(Shunryu Suzuki: Beginner's Mind)