New Photo Book
December 27 - New edition of PLACES_IN_TIME | Gentle Annie Point | 071224.


END
December 17 - With a group of students and two collegues I visit Gregor Schneider's installation END in Moenchengladbach. The artist has designed a new entrance for the Abteiberg Museum, that is as monumental as it is mysterious. Every two minutes one of our group is allowed to enter the huge walk-in sculpture through a 14 x 14 meter black square opening (Malevich's Black Square?). It leads into a 70-meter long, totally dark corridor, and ENDs in front of a small hole in the ground, through which each of us has to climb down a ladder in order to reach a number of cryptic rooms. There is a short section in the tunnel, which is completely dark, where my eyes cannot see where I came from nor where I am going to... A complete loss of visual orientation. Extremely disconcerting - but at the same time an inspiring adventure for the senses.


Birds of luck
November 25 - Two flocks of cranes (Grus grus) on their way to Northern Africa fly over our house trumpeting loudly - we greet them with cheers.

Winter
November 22 - Cherry tree: First snow of this year's winter.

SoundTrack_Cologne 5.0
November 21 - European University Meeting at SoundTrack_Cologne. Discussions about "filmmusic education" and "sound in documentaries" with a great lecture by Larry Sider from the School of Sound. As a motto he quotes medieval mystic Saint Bernard of Clairvaux: "You wish to see: listen! Hearing is a step towards vision."

Fall
November 11 - The autumn wind takes the last leaves from the cherry tree.

Duesseldorf
November 6 - "Dust and Scratches" is an unusual cinema event: new (loud) music to old silent movies. After a successful start last year the Bachsaal in Duesseldorf′s Johanneskirche is packed. The silent movies are from Georges Mèliès, Man Ray or the Lumiere Brothers; the sound tracks are from bands like A.N.S., Fat Mike′s Squeezebox and Karateclub. The mix between the two is provocative and inspiring.


Halloween
October 31 - All Hallows Even, the night before All Saint's Day. Cheap horror and sweets instead of a festival of the dead.

Approximation 2008
October 22 and 23 - It's called approximation 7:1 and it's a five day festival with pieces for solopiano at Duesseldorf's Salon des Amateurs. Fabian Schulz, one of my students at IMM records all concerts in order to produce a promotion film. On Wednesday night I hear french piano player Quentin Sirjacq and a trio around Johann Johannson from Island (haunting, otherworldly tunes). And on Thursday I catch Cor Fuhler from Amsterdam, who seeks to take the piano "beyond usual perceptions, specializing in sustained sounds with use of various string stimulators: 12 ebows, rotating threads, spinning disks". The second part of the evening belongs to Matthew Shipp who says about himself: "I have no influences - I existed together with god and the piano before time began - and my piano playing is the direct result of the fact that my mind and the cosmic mind that sustains the universe are in harmony - so when I play I intercept electro magnetic frequencies directly from the mind of god and can convert them into lyrical phrases on the piano." Far out.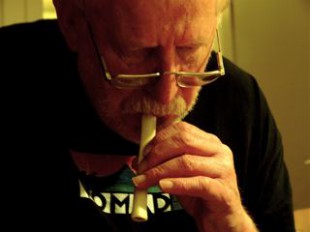 Visitor from down under
October 21 - Richard Nunns stays with us - after a long flight - before he goes on tour in Europe. He is best known as collector and player of traditional Maori instruments and has been described "as one of New Zealands most remarkable musician". He is one of the protagonists in SONGS OF THE MAORI, a documentary film I produced in 1997. In the next few weeks he will play with the New Zealand String Quartet in several concerts in cities throughout Europe, he will be filmed playing traditional instruments from the South Pacific in a museum in Goettingen and he will collaborate with Iranian musicians in a studio session in Halle. At our home Richard gives a sample of his art to our kids by playing on a flute made of dog bone.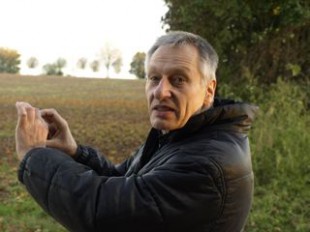 Old friend
October 18 to 19 - Arno Reinhard, an old companion I had not seen in many years, swings by on his Honda 1100. He comes from the Frankfurt Bookfair, where he represents his company Graph Druckula and is on his way back home to Berlin.

Delicious Delicious
Harvesting a large crop of sweet Golden Delicious from the tree in our garden.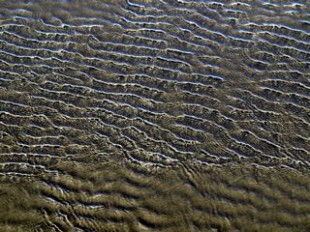 Lecture
October 8 - Talking about the making of PLACES_IN_TIME in a lecture with the title "Seeing water, listening to Water, reading water" at IMM. My wife Sabine reads from her audio book Reading Water.

Exhibition
October 6 to 10 - PLACES_IN_TIME | lake > creek > ocean in three seperate rooms at Institute For Music And Media, Robert Schumann University in Duesseldorf.
IBC 2008
September 15 and 16 - Visiting this years IBC in Amsterdam. The buzzword is 3 D. The so called 3 D stereoscopic displays are everywhere - with goggles and without. To fuel the hype the IBC Innovation Awards went to Hannah Montana & Miley Cyrus: Best of Both Worlds Concert, a 3 D Disney movie, that opened earlier this year. HD is standard and the number of stunning displays, including a prototype by JVC, is impressive.

Poetry Found
August 12 - We shall not cease from exploration
And the end of all our exploring
Will be to arrive where we started
And know the place for the first time.
Through the unknown, unremembered gate
When the last of earth left to discover
Is that which was the beginning;
At the source of the longest river
The voice of the hidden waterfall
And the children in the apple-tree
Not known, because not looked for
But heard, half-heard, in the stillness
Between two waves of the sea.
Quick now, here, now, always—
A condition of complete simplicity
(Costing not less than everything)
And all shall be well and
All manner of thing shall be well When the tongues of flame are in-folded
Into the crowned knot of fire
And the fire and the rose are one.
From T.S. Eliot, "Quartet No 4: Litttle Gidding"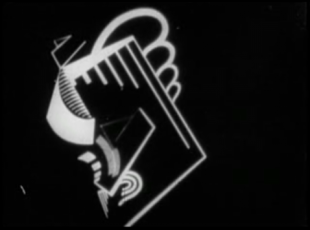 Tempo
August 6 - On the occasion of visiting the exhibition TEMPO! TEMPO! at the Opelvillen in Rüsselsheim I had the oportunity to attend a screening of two famous but rarely shown art films: Diagonal Symphony by Viking Eggeling from 1924 and Emak Bakia by Man Ray from 1926. In the seven and a half minutes long Diagonal Symphony "the emphasis is on objectively analyzed movement". Its silent. The white lines and abstract shapes on the black background are clearly defined and follow a "mechanical, almost metronomic tempo". Emak Bakia premiered 1926 in Paris and was cut to a jazzy tune by Django Reinhardt. At the screening the film is shown without a sound track. It starts with a shot of the artist's face behind a camera. The rest of the 15:47 minutes is a series of unidentifiable black and white images, "flashing flakes, dancing pins… a neon sign broadcasts the day's news"...the legs of a woman dancing the Charleston… a woman sunbathing… fish in the water...a woman asleep... she opens her eyes. The title is a basque expression and means: "Give me a break!". The exhibition itself is an eclectic collection of art videos - their connection to the topic of the exhibition - velocity - is in some cases disputable. My favorite piece is Takehito Koganezawa's Untitled (water) from 2005: A 14 minutes loop of reflecting light on the surface of water.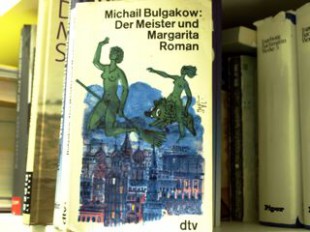 Master and Margarita
July - I finally managed to read Master and Margarita, the famous russian novel by Michail Bulgakov. It's one of the books, that was waiting in my book shelf for more than twenty years to be read. Thank god (or the devil?) for its patience.

Kronach
July 21 - On the way back from Bayreuth stopover in Kronach to check out a brand new mural by our artist friend Silvia Willkens. Krumpholz, a company spezialized in mold construction, had commisioned her to use 230 square meters of a new factory hall as an outdoor canvas. Silvi's paintings in recent years are mainly delicate portraits of women. Her "paintings resonate with quiet spirituality, as if they were portraits found in Renaissance paintings. The portrayed figures seem to move away from the materialistic world, embodying a pure and timeless inner beauty." The mural on the side of the postmodern bulding stands like a billboard for a distant future. Compassionately and pure the delicate beauty looks onto the traffic on the B 173. In passing by the drivers receive an unexpected gift: a sense of peace and harmony.

Bayreuth
July 20 - Dress rehearsal of Parsifal at the Bayreuther Festspiele. The new production of Richard Wagner's "Bühnenweihfestspiel" is directed by the young Norwegian director Stefan Herheim. It starts at 4 pm and ends at 11 pm - with two one hour intermissions. In the gallery at the very top of the theatre the seats are made of wood - without any comforting upholstery. Dozing off is only possible in the shortest of moments. Patience, stamina and a chair cushion are helpful to sit through the seven hour experience, which is overloaded with historical, political and psychological references and quotes. My second ascent of the Green Hill is a new attempt to come a little closer to Wagner's work. I enjoy the extraordinary acoustics of the building. The sound is superb - especially in the orchestral and choir parts. But for most of the time I stay strangely untouched, observing the spectacle with the detached curiosity of an ethnologist.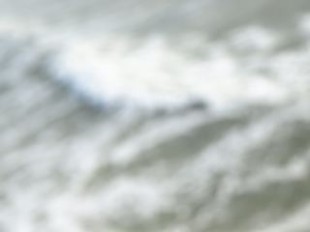 Prints
June 21 - I pick up the first samples of a series of large prints I got made at Grieger in Düsseldorf from the New Zealand photos. They are all about water - and they are part of my PLACES_IN_TIME project, which is scheduled to be exhibited at IMM in early October.

Summer starts
June 21 - The cherry tree bears lots of fruit. Sweet and juicy - with a slight bitter taste.
Mapping the field
May 29 and 30 - I take part in a two day symposium called "mapping the field", organized by the Utrecht School of Music and Technology in Hilversum. The proposal is "to identify some key themes on education and research in music design around which we can focus our collective activities over the coming few years." Other participants come from ESART in Portugal, from the Music Department of the Bilgi University in Istanbul, from the Academy of Music in Vilnius, from the University of Art and Design Helsinki, from Association of European Conservatoires (AEC) and from different departments within the Utrecht School of the Arts.

Visitors from Berlin
May 5 and 6 - My old companion Peter Glaser and his wife Sisa come for a flying visit. We exchange ideas and talk about our common friend Andreas Wald, who died in December. Peter brings a book by Joachim Schmid, a well known photo artist, and also an old friend of Andreas. It's titled "Englische Straße, vierte Treppe" and shows photos he took from things in Andreas' flat shortly after he had passed away.

Springtime in Germany
April 26 - The cherry tree in full bloom.

Wild man
Reading a fascinating 400 pages biography by Roger Horrocks about Len Lye (1901 - 1980), "a remarkable New Zealander and a gifted innovator in many areas of the arts - film, painting, sculpture, photography, and writing" .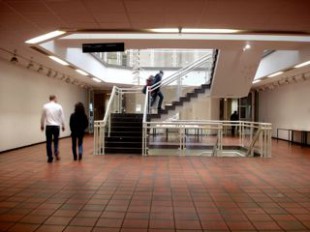 Beginning and end
April 1 - The summer semester starts at the Institute For Music And Media at the Robert Schumann Hochschule in Düsseldorf - and my sabbatical ends.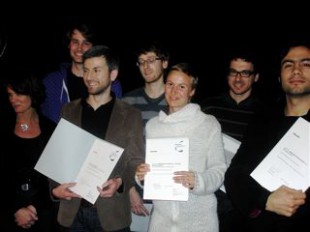 Shortcuts
March14 to 16 - As a member of the jury I take part in shortcuts, a conference and competition of young media artists and film makers in Rheinland-Pfalz. After two and a half days of inspiring discussions six from 38 works were selected for awards.


Back home
March 8 - The cherry tree: naked.

A Symphony in Lights
March 5 - On the way back from New Zealand stopover in Hongkong. From the Avenue of the Stars along the Tsim Sha Tsui waterfront I watch A SYMPHONY IN LIGHTS - the "world's largest permanent light and sound show" - among thousands of spectators. The spectactle features 44 buildings on both sides of the Victoria Harbour and is accompanied by symphonic music. The technology was developed by Australian firm Laservision and cost more than 20 Million Euro.

Himalayian Music in Christchurch
February 29 - Elaine Dobson is a senior lecturer at the School of Music at Canterbury University. As well as teaching composition, she is responsible for the introduction and development of the ethnomusicology courses. Her research into Tibetan and Bhutanese music has led to field work in Tibet, Bhutan, Nepal and India. Her compositions explore the relationship between music and the visual arts, experimental instrumentation and music theatre. Her husband Terence Dobson, teaches film animation. He is the author of THE FILM WORKS OF NORMAN MCLAREN, a well researched book about the celebrated Canadian animator. I accepted their invitation to dinner and enjoyed a delightful evening watching film clips from their extraordinary collection with singers and dancers from Bhutan.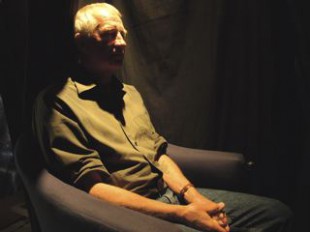 Speak Memory
February 28 - John Cousins is a creative artist who for 37 years worked as a theacher at the University of Canterbury's School of Music. "Over the years Cousins' work has evolved from conventional musical composition to sculptural performance, mixed-media and sonic art. It has been performed, broadcast and exhibited in Australia, Britain, Europe, Russia and the USA. The central element in his electro-acoustic work is the sonic sign: recordings of recognisable aural objects of all kinds are re-contextualised within surreal, sometimes super-real, sonic environments, generating works with a documentary flavour.

I meet John and his wife Coleen at their house in Christchurch. We spent an inspiring morning exchanging ideas. I am fascinated by his openness and agile presence.

He has a radical aproach in the way he presents his multi channel accoustic work.

Because of the special set up of the eight loudspeakers in his studio, he insists on an individual presentation. My wife Sabine and I are invited to sit in a comfortable chair (one at a time!) in the Sweet Spot under a tent. After he has turned off the lights it is pitch black. He presents his most recent work SPEAK MEMORY - and within minutes we are thrown into a dreamlike world full of strange sounds and voices. In the program we were handed we read: "It was a sort of Proustian discourse on the sinuosity of time and consciousness."

Theatre and Film Studies Department
February 27 - At the end of my stay as visiting artist at the University of Canterbury's Theatre and Film Studies Department I presented "New Music Theatre on TV - Two examples". In the context of the lecture presentation I showed parts of BLACK AND WHITE, a film I made with Heiner Goebbels and A JOURNEY INTO THE NIGHT, a film I made based on the "theatrical safari" of the same title by Harald Weiss .


School of Music
February 25 - Following an Invitation by Jonathan Le Cocq, Head of Centre for Music and Theatre and Film Studies at Canterbury University, I presented "Perceptible Processes". The lecture at the School of Music's "Composition Workshop" included the screening of STEVE REICH: CITY LIFE.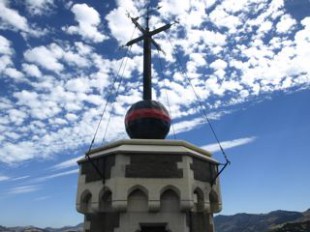 Timeball Station
February 24 - Visiting Lyttelton Timeball Station. What is a rare piece of maritime history today was once part of an enormous Victorian information network that spanned the globe and provided vital information for mariners. For 58 years - from 1876 until 1934 - the dropping of the timeball signalled Greenwich time to ships in Lyttelton harbour. This enabled navigators to check their chronometers. The exact time was necessary to calculate accurately the position of longitude once back at sea. Time to identify place.

Stargazing
February 17 - Mount John Observatory is a fully functioning scientific observatory of the University of Canterbury at Lake Tekapo. I take part in a Stargazing Night Tour, that starts at 11.30 pm and learn about the Southern Sky. The enthusiastic guides point out the Southern Cross and explain how to find the south celestial pole (SCP), around which - as the earth turns - the sky appears to rotate: "Crux, the Southern Cross, is in the southeast. Below it are Beta and Alpha Centauri, often called 'The Pointers'. Alpha Centauri ist the closest naked-eye star, 4.3 light years away. Beta Centauri, like most of the stars in Crux, is a blue giant star hundreds of light years away. Canopus is also a very luminous distant star; 13 000 times brighter than the sun and 300 light years away." Through a telescope I see close ups of the Magellanic Clouds, the sparkling Juwel Box and the rings of Saturn and its lagest moon Titan.


Preserver of sacred instruments
February 8 - "Feel the Seasons Change" is the name of a concert in Christchurch's Town Hall with the New Zealand Symphony Orchestra, the cult band Salmonella Dub, Whirimako Black, Paddy Free and Richard Nunns. The project is "an audio visual journey through Aotearoa landscapes and culture with arrangements by Tom Rainey and visual imagery from Salmonella Dub, John Chrisstoffels, Tim Budgen and Warp TV. I came to see Richard Nunns, who I met twelve years ago, when we shot SONGS OF THE MAORI. Richard is not only an authority on Taonga Puoro (traditional instruments) and a great musician, who "moulds endless textures, nuances and sounds to perfectly fit whilst never compromising the integrity of these sacred instruments", but also a warm hearted human beeing - and I am very greatful for the opportunity to meet him again after the concert.


Garden City Summer Times
January 5 - Visiting Christchurch's welcome of Waitangi Day, New Zealand's national day, celebrating the Treaty of Waitangi. The event is a highlight of the summer in the Garden City, to which more than hundred thousand people flock to Hagley Park. The evening is launched by local kapahaka group Te Ahikaaroa in celebration of Maori heritage and culture. The following open air concert with the Christchurch Symphony Orchestra features international singing star and entertainment manager Geoff Sewell and Bic Runga. The evening ends with Wagner's "Ride of the Valkyries" and a big firework.


PLACES_IN_TIME | lake > creek
January 22 to 24 – Recording for PLACES_IN_TIME "lake" and "creek" at Lake Arthur, an isolated lake on private farmland and at Camp Creek, a small creek running into Lake Kaniere. Both locations are west of Hokitika on the West Coast of New Zealand's South Island.


PLACES_IN_TIME | ocean
January 20 to 21 – Recording for PLACES_IN_TIME | "ocean" at a beach below Point Elizabeth north of Greymouth on the South Island of New Zealand. Each take is 40 minutes long. The image is recorded by John Chrisstoffels, a cameraman from Christchurch, who is also lecturer at the School of Fine Arts at the University of Canterbury. He uses a Sony F900R HDCAM Camera, that we rented from Rocket Rentals. The sound is recorded by Justin Webster from Wellington, a freelance sound recordist and editor, who has worked for Peter Jackson's WingNut Films on various film projects. He works with three Sennheiser MKH 416, two Sennheiser MKH 8020 and records onto three connected Sound Devices 722, which we rented from Chris Ward in Wellington.


Curio Bay
January 2 to 15 - Location scouting at Curio Bay in Otago on the South Island of New Zealand for the shooting of PLACES_IN_TIME | lake > creek > ocean. Watching Hector Dolphin's play in the surf.