Theater
December 16 - Duesseldorfer Schauspielhaus: Der Sandmann by E.T.A. Hoffmann in a staging by Robert Wilson. Wilson at his best. That's how theater must be! "Upon this, Coppola advanced a good way into the room, his wide mouth distorted into a hideous laugh, and his little eyes darting fire from beneath their long grey lashes: 'Eh, eh - no barometer - no barometer? he said in a hoarse voice, 'I have pretty eyes too - pretty eyes!'"

Reading
December 10 - Before it was published as a book, it was a blog: Arbeit und Struktur (work and structure), the 450 pages diary of German author Wolfgang Herrndorf. It starts in March 2010, shortly after he was diagnosed with a brain tumor, and it ends a few days before he shot himself on August 26, 2013. Apart from beeing a successful author (Why We Took the Car, Sand), Herrndorf was also a known illustrator and painter.
"30.4. 2010 21:36 Was ich brauche, ist eine Exitstrategie. Ich hatte Cornelius gegenüber schon mal angefangen, aber das war noch zu Zeiten der Manie, und da war ich noch vollkommen sicher, daß es nur eine Waffe sein könne. Aus dem einfachen Grund, daß ich herumging und mich prüfte und spürte, die Sache nicht in einem Moment der Verzweiflung, sondern der Euphorie hinter mich bringen zu können, und ohne Probleme. Voraussetzung dafür war, daß zwischen Entschluß und Ausführung nicht mehr als eine Zehntelsekunde liegen dürfe. Schon eine Handgranate wäre nicht gegangen. Die Angst vor den drei Sekunden Verzögerung hätte mich umgebracht. Medikamente mit dem langwierigen Vorgang des Schluckens und Wartens sowieso. Weil ich wollte ja nicht sterben, zu keinem Zeitpunkt, und ich will es auch jetzt nicht. Aber die Gewißheit, es selbst in der Hand zu haben, war von Anfang an notwendiger Bestandteil meiner Psychohygiene. Googeln fällt mir unsagbar schwer, ein praktikables How-to nicht auffindbar. Freunde informiert: Falls jemand von Mitteln und Wegen weiß oder im Besitz davon ist – am 21. Juni ist das erste MRT. Bis dahin brauche ich was hier. Ob ich die Disziplin habe, es am Ende auch zu tun, ist noch eine ganz andere Frage. Aber es geht, wie gesagt, um Psychohygiene. Ich muß wissen, daß ich Herr im eigenen Haus bin. Weiter nichts. "

Cherry Tree
December 2 - First snow of winter. The dog is pleased. Where is my hat?

Reading
November 12 - When English writer Kazuo Ishiguro was named winner of this year's nobel prize a few days ago, I realized that I had not read a word of his. I grabbed An Artist of the Floating World, his second novel, published in 1986, and could not let go of the book until I finished. "1948, Japan is rebuilding her cities after the calamity of World War II, her people putting defeat behind them and looking to the future. The celebrated painter Masuji Ono fills his days attending to his garden, his house repairs, his two grown daughters and his grandson, and his evening drinking with old associates in quiet lantern-lit bars. His should be a tranquil retirement. But as his memories continually return to the past, a dark shadow begins to grow over his serenity". (blurb)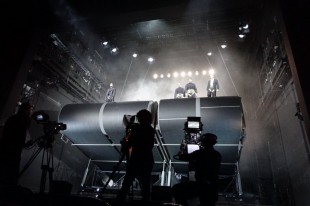 Theater on TV
November 8 - Exquisite multicamera production by Peter Schoenhofer of an exquisite staging of Friedrich Schiller's "Die Räuber" at Residenztheater in Munich (stage and staging: Ulrich Rasche). Broadcasted on 3sat.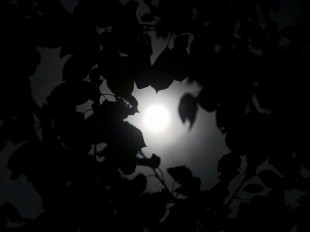 Cherry Tree
November 4 - Full moon. Native Americans name the different full moons. The one in November is called Full Beaver Moon. "For both the colonists and the Algonquin tribes, this was the time to set beaver traps before the swamps froze, to ensure a supply of warm winter furs. This full moon was also called the Frost Moon." (The Old Farmer's Almanac)

Walking
October 18 - A day in the woods. The Japanese have a word for it: shinrin-yoku, "forest bathing" or "taking in the forest atmoshere". We walk from Deidesheim via Weinbiet to Neustadt. It's a georgeous day, sunny, warm, blue sky, amber and golden light. Perfect.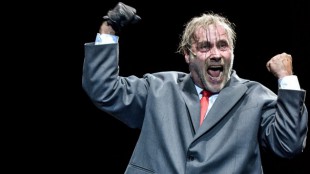 Theater
October 15 - Schauspiel Frankfurt: Richard III by William Shakespeare in a staging by Jan Bosse. England is not more than a heap of ashes in the middle of a boxingring stage. And Wolfram Koch's Richard is a grand dazzler in an ill fitting grey suit and a red tie. Blood and thunder. Three hours of breathtaking performances.

Exhibition
October 12 - At Museum Kunstpalast in Düsseldorf : AXEL HÜTTE. Night and Day. Axel Hütte is - next to Andreas Gursky, Thomas Ruff, Thomas Struth and Candida Höfer - one of the best known exponents of the Duesseldorf School of Photography. "The exhibition brings together around 70 large scale pictures from a period of over twenty years, including some that have never been presented publicly before." (Catalog)

Teaching
October 4 - Start of the winter term at Robert Schumann Hochschule Duesseldorf.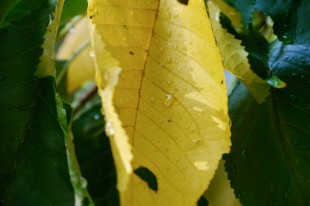 Cherry Tree
October 3 - Here we go again.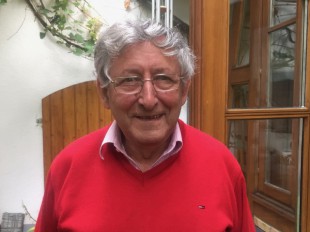 Visitor
September 5 - Recurring visitor: Ted Simon, alias Jupiter. It's the first time the 86-year old writer arrives in a car - and not on a motorcycle.

Installation
September 2 - In Duisburg I visit the opening of White Circle. The audiovisual installation is part of this years arts festival Ruhrtriennale. A ring of vertically hanging white fluorescent tubes, located in the middle of Kraftzentrale, a 6000

m² industrial hall,

reacts to musical impulses and illuminates the gigantic space. Six pieces by Alva Noto, Byetone, Kangding Ray and Frank Bretschneider run in a loop. Each piece interacts in different ways with the florescent tubes and the reverberation of the hall.

Documentary
September 1 - At Bambi in Duesseldorf: David Lynch: The Art Life, a documentary by Jon Nguyen. While we hear the mesmerizing voice of the enigmatic 71-year old filmmaker (talking about his early years) we see him painting in his studio, sometimes in the company of his four year old daughter. Things I have learned is the title of one of the paintings he is working on.

Mysteriously hypnotic.



Reading
August 19 - The Wild Places, published in 2007, is the second book (after The Old Ways), that I read by English writer Robert Macfarlane: "There is no mystery in this association of woods and otherworlds, for as anyone who has walked the woods knows, they are places of correspondence, of call and answer."

Vacation
July 30 to August 11 - Walking on the beach, watching the clouds, listening to the surf.

Travel documentary
July 5 - At Bambi in Duesseldorf: WEIT. Die Geschichte von einem Weg um die Welt (FAR. A Story About A Trip Around the World). In spring 2013 cameraman Patrick Allgeier and his partner Gwendolin Weisser start a trip around the world. They pack light and live cheap. They go by autostop, walk, take boats. Most nights they spend in a two persons tent. Along the road they meet ordinary people: welcoming, trustworthy, kind, humorous. Three and a half years and 96 707 km later they return to Freiburg, their home town. They bring Bruno, their son, who was born along the way in Mexico. And they bring an exceptionally authentic film. A film that shows the world from a different angle.

Movies
June 27 - At Bambi in Duesseldorf: The Dinner (2017), written and directed by Israeli-American filmmaker Oren Moverman after the novel 'Het Diner' (2009) by Dutch writer Herman Koch . Two sets of parents meet to decide what to do about a crime their adolescent sons have committed. The central question of the film: How far are these middle class parents willing to bend the rules, break the law and betray their own moral principles in order to protect their offsprings from criminal prosecution. Outstanding performances by Richard Gere, Laura Linney, Steve Coogan and Rebecca Hall.

Cherry Tree
June 18 - There is no hiding place up there. Gourmets have ladders or wings.

Exhibition
June 13 - CRANACH - Meister Marke Moderne at Museum Kunstpalast in Duesseldorf. Over 200 works from international museums and collections have been gathered together for this unusual exhibition in the Lutherdekade. "Lucas Cranach the Elder is not only one of the most important representatives of the German Renaissance, but undoubtedly also one of its most productive. The sheer magnitude of his painting œuvre, numbering more than 1,500 works, still testifies today to his long artistic career and immense spectrum of innovative pictorial inventions. Owing to the captivating persuasive power and vitality of his pictorial language, he was considered a leading artist of his time by his contemporaries, and viewers continue to be fascinated by his works to this day." (catalog)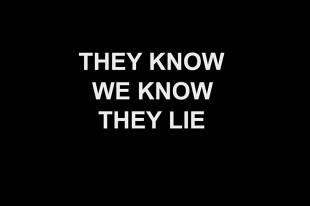 Film Essay
June 10 - HyperNormalisation is the title of a new film (October 2016) by British filmmaker Adam Curtis. In times of growing nonformation a must see! "We live in a strange time. Extraordinary events keep happening that undermine the stability of our world. Suicide bombs, waves of refugees, Donald Trump, Vladimir Putin even Brexit. Yet those in control seem unable to deal with them, and no-one has any vision of a different or better kind of future. This film will tell the story of how we got to this strange place." (Adam Curtis' voice at the beginning of the 166 min film) Available in different versions on youtube.

Cherry Tree
June 3 - Rain! Expected longingly.

Walking
May 27 to 29 - Three days of solitary walks in the Palatinate Forest in the Southwest corner of Germany. I watch the trembling of young beech leafs in the wind and the dance of dragon flies at the edge of a water lily pond; I listen to birdsong and to the croaking of frogs. And I soak up the fragrance of the forest soil after a short but heavy thundershower.

Documentary
May 25 - At Palatin in Mainz: Beuys, documentary about the German sculptor and performance artist Joseph Beuys by Andres Veiel. "Everything can be art!", Beuys said and acted accordingly. "Beuys' aim was to expand the concept of art as far as possible...The film about the slim man with the hat gives the floor to Beuys himself, in a rich mosaic of priceless archive footage shot during his many actions, performances and public appearance."(CPH-DOX*) Exquisitely edited by Stephan Krumbiegel and Olaf Voigtländer.
Theater
May 9 - In 2012 German actor/director
Herbert Fritsch
caused a sensation at Berlin's
Volksbühne
with his hilarious staging of what was considered an unstagable work.
Murmel Murmel
is a play by Swiss artist
Dieter Roth
consisting of 178 pages of dialogue using only one word: "Murmel". We catch one of the last performances of the production during the
International May Festival
at Staatstheater Wiesbaden. Very funny!
"A side-splittingly funny eighty minutes of mind-altering slapstick, cringe-inducing costumes and a psychedelic surging set – a Dadaistic embrace of nonsense and hilarity in glorious technicolor. You could call it a satirical comment on today's hysterical, overexcited turbo-society or you could simply enjoy the brilliantly choreographed insanity.
" (Edinburgh International Festival)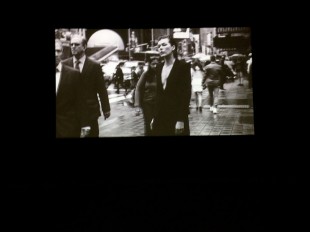 Exhibition
April 27 - Duesseldorf, NRW-Forum: Peter Lindbergh/Garry Winogrand: Women On Street. "Garry Winogrand, who died in 1984, ranks among the most important exponents of street photography and, from the mid-1970s, he played a decisive role in establishing photography in the context of contemporary art. His frequently falling lines, a direct and intuitive approach to his subject and an insightful view of the cosmos of the street are the features of his distinctive style. Peter Lindbergh is regarded as one of the best living photographers and a star of fashion photography... In his photographs he turns against the ideal of beauty prescribed by the fashion world and he often shows a beauty that has been attained 'through experiences, through heartbreaks, through having children', as Cindy Crawford told ICON, a German lifestyle magazine, in 2015."

Cherry Tree
April 9 - "How many, many things they call to mind - these cherry blossoms."
(Basho Matsuo, 1644 - 1694)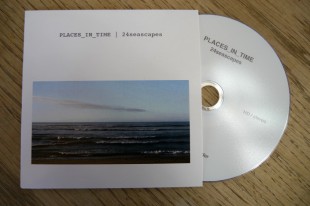 PLACES_IN_TIME | 24seascapes
April 6 - As of now available on DVD through Gruenrekorder: PLACES_IN_TIME | 24seascapes, 24 audiovisual moods from New Zealand and Rarotonga; 60 min (each take is 2'30" in duration), HD, stereo. It is the first part of the production I shot between October 15 and February 16 in New Zealand. The main part of the sabbatical project, a portrait about NZ sound artist John Cousins (JC&The University of the Waves), is still in the making.

Teaching
April 4 - Start of the summer term at the Institute For Music And Media in Duesseldorf.

Cherry Tree
March 27 - The nights are still cold. During the day the buds stretch towards the sun.

Sitting
March 13 to 19 - Spring Sesshin with Paul Shepherd at Felsentor above Lake Lucerne.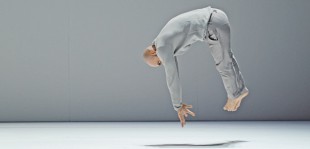 Dance
March 12 - Magma an evening with two dance pieces at Staatstheater Mainz: Fieber by Alessandra Corti and Fall Seven Times by Guy Nader & Maria Campos. Fall Seven Times is inspired by J.G. Ballard's poem What I believe, originally published in 1984. Described as "part poem part prayer" it offers a personal and amusing catalog of tropes and memes, themes, and influences which are to be found in the English writer's work:
"I believe in the power of the imagination to remake the world, to release the truth within us, to hold back the night, to transcend death, to charm motorways, to ingratiate ourselves with birds, to enlist the confidences of madmen. I believe in my own obsessions, in the beauty of the car crash, in the peace of the submerged forest, in the excitements of the deserted holiday beach, in the elegance of automobile graveyards, in the mystery of multi-storey car parks, in the poetry of abandoned hotels. I believe in the forgotten runways of Wake Island, pointing towards the Pacifics of our imaginations. ...
I believe in pain.
I believe in despair.
I believe in all children.
I believe in maps, diagrams, codes, chess-games, puzzles, airline timetables, airport indicator signs.
I believe all excuses.
I believe all reasons.
I believe all hallucinations.
I believe all anger.
I believe all mythologies, memories, lies, fantasies, evasions.
I believe in the mystery and melancholy of a hand, in the kindness of trees, in the wisdom of light."

Movies
March 2 - I see (!) and hear (!) Notes on Blindness, an unusual, ambitious film by British artists Peter Middleton and James Spinney. "After losing sight, John Hull knew that if he did not try to understand blindness it would destroy him. In 1983 he began keeping an audio diary. Over three years he recorded over sixteen hours of material, a unique testimony of loss, rebirth and renewal, excavating the interior world of blindness. Published in 1990, the diaries were described by author and neurologist Oliver Sacks as, 'A masterpiece… The most precise, deep and beautiful account of blindness I have ever read.' "

Reading
February 5 - The Invention of Nature - Alexander von Humboldt's New World, a biography by Andrea Wulf. "'Nature every where speaks to man in a voice', Humboldt said, that is 'familiar to his soul'. These sounds were like voices from beyond the ocean that transported him in an instant from one hemisphere to another. Like the tentative pencil lines in a sketch, his new understanding of nature, based on scientific observations and feelings, was beginning to emerge. Memories and emotional responses, Humboldt realized, would always form part of man's experience and understanding of nature. Imagination was like 'a balm of miraculous healing properties', he said."

Documentary
January 20 - On the eve of the inauguration of Donald Trump I watch Requiem for the American Dream - Noam Chomsky and the Principles of Concentration of Wealth and Power, a documentary film by directors/producers Peter Hutchison, Kelly Nyks and Jared P. Scott. "Through interviews filmed over four years, Chomsky unpacks the principles that have brought us to the crossroads of historically unprecedented inequality...Profoundly personal and thought provoking, Chomsky provides penetrating insight into what may well be the lasting legacy of our time – the death of the middle class, and swan song of functioning democracy. A potent reminder that power ultimately rests in the hands of the governed, 'Requiem' is required viewing for all who maintain hope in a shared stake in the future."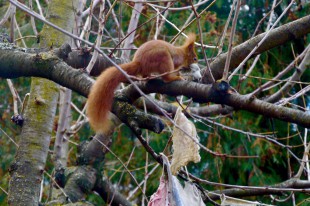 Cherry Tree
January 15 - Theft of prayer flags - thief caught red-handed.

New Year
January 1 - New Year's walk with friends in an enchanted ice covered forest near Darmstadt.