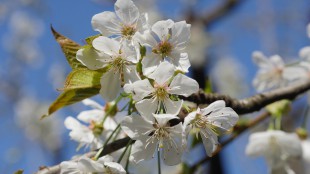 Cherry Tree
April 9 - "How many, many things they call to mind - these cherry blossoms."
(Basho Matsuo, 1644 - 1694)

PLACES_IN_TIME | 24seascapes
April 6 - As of now available on DVD through Gruenrekorder: PLACES_IN_TIME | 24seascapes, 24 audiovisual moods from New Zealand and Rarotonga; 60 min (each take is 2'30" in duration), HD, stereo. It is the first part of the production I shot between October 15 and February 16 in New Zealand. The main part, a portrait about NZ sound artist John Cousins (JC&The University of the Waves), is still in the making.

Teaching
April 4 - Start of the summer term at the Institute For Music And Media in Duesseldorf.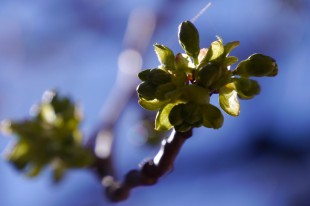 Cherry Tree   March 27 -  The nights are still cold. During the day the buds stretch towards the sun.

Sitting
March 13 to 19 - Spring Sesshin with Paul Shepherd at Felsentor above Lake Lucerne.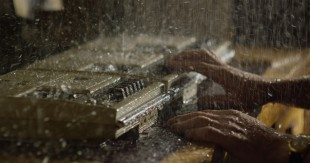 Movies
March 2 - I see (!) and hear (!) Notes on Blindness, an unusual, ambitious film by British artists Peter Middleton and James Spinney. "After losing sight, John Hull knew that if he did not try to understand blindness it would destroy him. In 1983 he began keeping an audio diary. Over three years he recorded over sixteen hours of material, a unique testimony of loss, rebirth and renewal, excavating the interior world of blindness. Published in 1990, the diaries were described by author and neurologist Oliver Sacks as, 'A masterpiece… The most precise, deep and beautiful account of blindness I have ever read.' "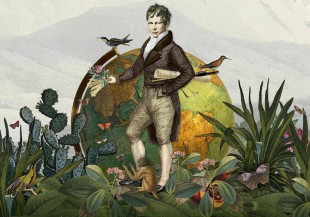 Reading
February 5 - The Invention of Nature - Alexander von Humboldt's New World, a biography by Andrea Wulf. "'Nature every where speaks to man in a voice', Humboldt said, that is 'familiar to his soul'. These sounds were like voices from beyond the ocean that transported him in an instant from one hemisphere to another. Like the tentative pencil lines in a sketch, his new understanding of nature, based on scientific observations and feelings, was beginning to emerge. Memories and emotional responses, Humboldt realized, would always form part of man's experience and understanding of nature. Imagination was like 'a balm of miraculous healing properties', he said."

Documentary
January 20 - On the eve of the inauguration of Donald Trump I watch Requiem for the American Dream - Noam Chomsky and the Principles of Concentration of Wealth and Power, a documentary film by directors/producers Peter Hutchison, Kelly Nyks and Jared P. Scott. "Through interviews filmed over four years, Chomsky unpacks the principles that have brought us to the crossroads of historically unprecedented inequality...Profoundly personal and thought provoking, Chomsky provides penetrating insight into what may well be the lasting legacy of our time – the death of the middle class, and swan song of functioning democracy. A potent reminder that power ultimately rests in the hands of the governed, 'Requiem' is required viewing for all who maintain hope in a shared stake in the future."

Cherry Tree
January 15 - Theft of prayer flags - thief caught red-handed.

New Year
January 1 - New Year's walk with friends in an enchanted ice covered forest near Darmstadt.