FREEHAND - ALEXANDER VON SCHLIPPENBACH | 52 Min | NDR/MW Filmprod. 1997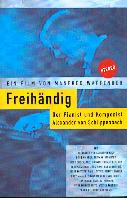 Freehand - Pianoplayer and Composer Alexander von Schlippenbach
Alexander von Schlippenbach is one of the top jazz avant-garde pianists and composers in Europe. The film accompanies the musician to rehearsals and concerts. It shows him working together with his wife, the pianist Aki Takase, with whom he leads the "Berlin Contemporary Jazz Orchestra". Using concrete musical examples, Alexander von Schlippenbach explains his composing and improvisational techniques. At the 1996 Berlin Jazz Fest, he appeared with Evan Parker and Paul Lovens. He played pieces by Thelonious Monk in a trio with Nobuyoshi Ino and Sunny Murray and in a quintet with Axel Dörner, Rudi Mahall, Jan Roder and Uli Jenneßen.
International TV distribution by Euroarts.
» buy
» list of all films